'Who wants to be a Millionaire' television presenter and keen angler, Chris Tarrant, recently landed a 30lb 2oz Pike using one of the new Greys prototype Prowla rods.
Following two years in design and development working with top flight Predator anglers in both the UK and Europe, the new range of Prowla rods, terminal tackle, luggage and accessories have reached the end of its long testing period.
Chris was on a two day guided boat Pike session at Chew Valley Lake, Somerset with fishing partner Martin Founds, of Anglers' World Holidays.
Both men were being guided by Hardy & Greys Ltd Consultant and England Fly Fishing Team Captain John Horsey, for the first two days of the annual sell-out Chew Valley Pike Trials.
Chris said;
"It was easily the coldest day that I've ever fished on. The water temperature was only 3 degrees and we didn't expect any runs at all.
"Around lunchtime we had half a dozen Pike on smelt before I caught my personal best 30lb 2oz Pike on float-fished smelt deadbait. I was absolutely thrilled as my previous P.B was just 29lb.
"The 12' 3lb TC Greys Prowla Platinum Bait Rod I was using was light to handle, casting beautifully, it still had masses of power in reserve for playing a very big strong fish in deep water under a boat. The rod set the hook easily at range and there was plenty of power to deliver the fish quickly to the net. What a day!"
Martin also had a Pike on his Greys Prowla 10' 6" Boat Rod weighing 19lb 8oz and John joined in the action too when he caught a personal best Perch weighing 4lbs 6ozs on a Greys 6' Prowla Platinum Jerkbait Rod.
John Horsey said;
"Over the years I have had great days at Chew on the Pike, but those 2 days must be the best so far. We have boated even bigger Pike, but never in such adverse conditions.
"For Chris to get his personal best Pike in the middle of a snow storm that left most of our tackle completely covered was absolutely brilliant!
"Then, to think we caught all our fish using the latest Prowla range of predator rods was fantastic. All the rods performed incredibly well – at times we had solid ice in the rod rings, but still they delivered the goods – cast after cast."
Coarse & Carp category Product Manager, Andy Charlton, said;
"The Prowla range has been carefully engineered for today's predator angler and is the most exciting range of products I've ever been involved with whilst at Hardy & Greys.
"Designed and developed by some of Europe's finest specimen anglers, I am incredibly excited to be nearing the launch later this year. 18 rods encompass the range, including bait, boat, drop shot, jerk baits, lure rods and vertical jig rods all priced between £79.99 and £109.99."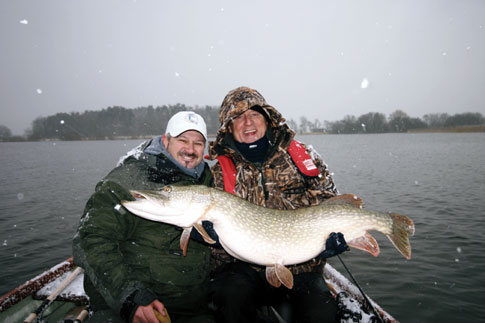 John Horsey and Chris Tarrant