Wychavon Championship Qualifier
Saturday July 5th
Warwickshire Avon – Evesham Town Waters and Hampton Ferry
65 pegs

An 18lb carp, believed to be the biggest fish ever landed in a match at Evesham, put Dave Harrell in pole position at the latest Wychavon qualifier on a very difficult Warwickshire Avon which saw most of the field struggling for bites.
After going through the card with a variety of methods that only brought a few tiny perch Dave decided to sit out the last couple of hours on a small groundbait feeder fished three quarters of the way across with worm and caster hookbait. The big fish came with 90 minutes to go and pushed Dave's winning total to 18-7-0.
Second place went to Tony Skinner at form Peg 1 with 8-8-0 of perch taken on pole and maggot and six metres. Third was Dave Harpin who included a 4lb tench in his 7-0-0 total from Peg 42. Fourth place went to Paul Glenfield with 6-10-0 of chub and roach from Peg 40 and fifth was Trevor Chalk with 5-6-0 of eels from Peg 66 in the Café Meadow.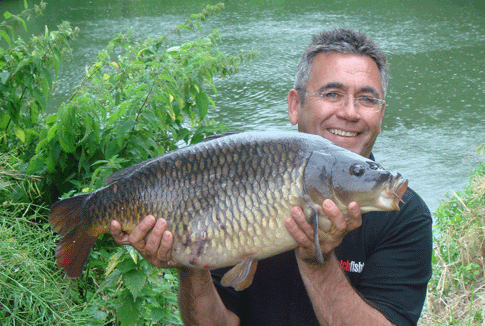 Dave Harrell with the big carp that saw him qualify at Evesham.

Result
1. Dave Harrell (Match Fishing) 18-7-0 (peg 46)
2. Tony Skinner (Shakespeare) 8-8-0 (peg 1)
3. Dave Harpin (Sensas A4) 7-0-0 (peg 42)
4. Paul Glenfield (Garbolino Banbury Gunsmiths) 6-10-0 (peg 40)
5. Trevor Chalk (Sensas Portway) 5-6-0 (peg 66)

Qualifiers: Tony Skinner, Terry Parrot, and Dave Harpin.