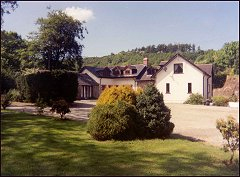 An idyllic 12-acre spot in the Welsh valleys.
A true gem in the Welsh valleys, Holgan Farm offers peace and quiet for both anglers who want great fishing in stunning surroundings, and those who simply want a break away from it all.
Run by former world champion Ina Heaps for many years now and built on a 12 acre site, Holgan farm is situated in one of Pembrokeshire's most serene and picturesque valleys. Next to the historic 14th century St Aidans Church, it is in the heart of an area which is steeped in history from the Roman encampment to the castle ruins on the hill which overlooks the valley.
The fishing is on three lakes, offering 90 well appointed pegs, or for game fish on the river that runs along the bottom of the fishery. As an alternative to the excellent and varied coarse fishing on three lakes, you may wish to enjoy a river walk where you can see otters, kingfishers, dippers, buzzards circling overhead and even the occasional salmon leaping.
The fishery itself is idyllic, beautifully landscaped, with thousands of flowers, plants and shrubs. Yellow Flag Iris, Bull Rush, various variegated grasses and lilies abound. Lush growth covers all margins, giving excellent bank side cover. Ian has created a first class fishery and for the non-fishing visitors, a botanical jewel set in the heart of Pembrokeshire.
Match Lake
With a maximum depth of about eight and a half feet, Match Lake is the deepest of the three lakes and has a large central island scalloped into bays opposite all pegs giving anglers some lovely waggler fishing at about 20 metres.
Excellent fishing can be found on the shelf off the island where there is about five feet of water, making a typical summer and autumn haunt for all species. Typical of the other two Holgan Farm lakes are the densely planted margins which offer ideal conditions for fishing close in the warmer months.
Match Lake holds a large variety of fish including mirror, common and ghost carp to 20lb, crucian carp to 4lb 4oz, green and golden tench to 4lb, rudd and golden rudd stocked at 1lb, roach to 2lb and averaging five to six ounces, bream from 3lb to 6lb and thousands of hand-sized skimmers.
In January 2006 Ian netted the lake to reduce the large numbers of small skimmers, giving all other sizeable fish an even better chance of quickly becoming quality specimens.
In addition, there are a large number of golden and blue orfe which average 2lb to 3lb – 50lb to 60lb nets of these are often taken fishing just 12 inches deep on maggot or caster whilst spraying loosefeed.
Of all three waters at Holgan Farm, Match Lake is probably the most diverse when it comes to the species of fish available whilst the marginal contours are much the same as Tench and Crucian Lake and therefore the same marginal approach pays dividends with all species. A bonus with Match Lake is that in the coldest weather the extra depth guarantees sport. Pole or waggler fishing is best whilst leger tackle should be left in the garage.
Carp Lake
Holding mirror and common carp averaging 8lb, plus a good head of doubles, the largest recorded at 27lb 14oz, Carp Lake also offers a good many green and golden tench to 5lb as well as crucian carp to 3lb 8oz, with the average being about 1lb 8oz. Ian purposely keeps roach out of this lake because he says lakes can quickly become overrun with immature fish which can become a nuisance to anglers.
With an average depth of about six feet just a rod length out and three feet in the well fringed margins, which have been heavily planted with irises which provide lush cover in the summer, Carp Lake has three islands which provide features to fish to, although in summer fishing close to the margins normally produces the best results.
Although Carp Lake is fairly large and reasonably deep, pole and waggler are undoubtedly the best methods with the feeder for some reason not producing the best results.
During the summer months when the bankside plants can be up to five feet high providing plenty of cover, then the dibber float fished tight to the margins sorts out the bigger fish.
Best baits for this are usually corn, maggots, meat and paste fished over a bed of pellets sold on site. To make the paste, simply add an equal amount of water to the pellets and mix into a soft paste which can be used as large as a conker.
The carp just love a very soft paste and an easy way to fish this is under a small pole float with no shot on the line using the paste as a plummet and adjusting the float so just the tip shows. If the paste is removed the float will lie flat, if it is taken by a fish the float just goes!
Ian Heaps says that the way you feed is equally as important as how you shot your line. Little and often is best for the small fish whilst bigger fish will hoover up a bed of pellets once they get their heads down. However, whichever way you feed, it is important to keep a short line between the rod tip and float – a maximum of two feet – in order to present a still bait.
In the later months the fish often leave the margins and then the pole scores highly, unless you want to fish towards the islands when a waggler is required to cover the distance. The No 1 method in the colder months is without doubt sweetcorn, single, double and treble. Winter match weights often exceed the ton.
As with any water, unless you are familiar with the topography of the bottom it pays to plumb the depths. Nearly all pegs on the Carp Lake have some feature and it is worth taking the time and trouble to find them as they can make all the difference between 100lb catches and more mediocre weights.
In winter when the water is clearest, the fish often shy away to the islands. When this happens it pays to use a large waggler baited with hair-rigged sweetcorn. It was using this method in the winter of 2003 that Rob Jones from Neath took the lake record during a match with 187lb 14oz after hair-rigging treble sweetcorn and fishing just two feet deep close to the island.
Tench And Crucian Lake
Designed specifically for tench and crucian carp, this lake again averages six feet deep although the main feature is a submerged island in the centre which is heavily planted with red, white and yellow lilies which flower from about June onwards and provide the perfect habitat for tench and crucians. The depth here is only a matter of a couple of feet or so.
As its name implies, this water holds both common green and golden tench to about 6lb, several thousand crucian carp which average about 1lb but which run to 4lb and can give pleasure anglers bags of over 50lb, plus a good head of golden orfe which, when they show, are usually around the 4lb to 5lb mark.
Although they were never stocked in this lake, common and mirror carp are also showing. These are believed to have found their way into the water as either eggs or fry through the overflow from the Carp Lake and first started to show in 2001. Since then they have become quite numerous and are being caught at up to 12 lb, with the average coming in between 4lb and 8lb.
When fishing Tench and Crucian Lake, both pole and waggler score equally well with the same techniques and baits as those recommended for Carp Lake scoring highly.
Ian Heaps' favourite technique, however, is to fish a quarter-inch bread punch close in on the slope over a tangerine sized ball of liquidised bread. This, he says, is a cheap and effective method throughout the year when fished on a long-shank, fine wire round-bend size 16 or 14 hook and the top two sections of a pole. However, keep the remainder of the pole close to hand in case you hook into one of the bigger carp. The best shotting pattern for this type of fishing in a string of five tiny shot, say 10s or 8s, placed six inches apart starting about six inches from the hook. Once again it pays to keep the line between the pole tip and float short. Anglers who don't own or use a pole should fish a small waggler 'canal style' with two or three No 4 shot to cock the float and smaller shot strung nearer the hook.
Other than bread, maggots, casters, soft hooker pellets and sweetcorn make good baits when fished with pellets fed little and often. Ian recommends that about half a dozen pellets should be fed every cast and that anglers wait no longer than two minutes before recasting. Three or four pieces of sweetcorn or other samples such as maggots can also be thrown in at intervals.
In winter, chopped worm and caster fished in the deeper water can be the best method. Again a pole would the No 1 choice with the float dotted right down. Alternatively, use a small waggler with the rod used as a whip.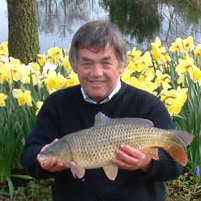 Let the 1995 world champion Ian Heaps improve your catch rate.
'School of Angling'
Ian Heaps 'School of Angling' is an excellent way to take a holiday whilst improving your angling technique and knowledge at the same time, whatever the time of year.
Ian has run the 'School of Angling' for many years and anglers from all over the country have benefited from his teaching by going on to become club champions whilst others have even made a name for themselves on the tough Open circuit.
Tuition is normally one to one, however groups can be catered for and on each day anglers can learn a different technique.
Each morning session begins with a notepad and pen session with Ian showing how a particular method works best, illustrating shotting patterns and other details with sketches and diagrams. This is followed by Ian demonstrating the technique at the waterside, after which anglers try out the techniques for themselves.
The School is open throughout the year with the methods demonstrated varying from winter to summer to suit the conditions. Enrolment at the School currently costs £75 per single day or £250 per week (five days) from Monday to Friday plus accommodation, which can be provided either on site in the main house or at one of several hotels.
All Ian asks is that when booking, anglers send a £75 deposit to secure their place at the School, supply their name, address and contact telephone number and indicate which dates they want to attend the School.
The Eastern River Cleddau
Described by Ian Heaps as: 'One of South West Wales' best kept secrets', the Eastern Cleddau yields sea trout to double figures, whilst the average size of fish caught by the daytime angler is usually between 1lb 8oz and 2lb 8oz
As with many rivers, fly fishing at night is best for the sea trout and most patterns containing blue and silver seem to work well. Spinning during the day is also very successful and a Mepps No 2 blue and silver generally produces good results.
Most anglers prefer to stand in the middle of the river where the water is two to three feet deep and progressively cover the water in particular working the bankside lies.
Best times for fishing are after a spate when the river is fining off, although if the water is coloured a bunch of freelined or trotted worms can be excellent for taking salmon, whilst a single worm is good for the sea trout.
Anglers who traditionally fish coarse waters should remember that an Environment Agency Game Fishing licence is required for fishing for salmon and sea trout on this water and that maggots are not allowed under local EA regulations.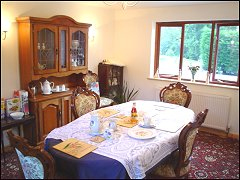 The accomodation is great and Ian's daughter's home cooking is fast becoming legendary…
Accomodation
Visitors to Holgan Farm stay in the main house where there are two twin and two double rooms which offer high-quality self-contained en-suite accommodation. The accommodation is ideal for individuals, couples, families or groups and all rooms have television and tea making facilitiies. Guests can also enjoy the use of a lounge-style television room.
For guests who have booked breakfast and evening meals, a treat lies in store. Ian's daughter Beth is rapidly gaining a reputation for her genuine home-made traditional meals. Home-made soups made from the freshest ingredients and vegetables generally lead to a full-scale roast dinner or steak with a peppercorn sauce made from butter, cream and brandy. Sweets include such treats as brandied strawberries or apple crumble. Our three course home cooked evening meal costs £25 per person and can be arranged  and booked on arrival.
Although in the heart of the countryside, the shopping centres of Narberth and Haverfordwest are within a few minutes drive whilst the surrounding area contains numerous interesting attractions including the Oakwood Theme Park and Great Wedlock Dinosaur Park. Nearby there's horse riding as well as the historic family holiday resorts of Tenby and Saundersfoot with their famous beaches.
Accommodation Prices
Holidays and breaks at Ian heaps Premier Fishery include seven nights bed & breakfast, starting on Saturday and departing the following Saturday. The cost of the stay is £275 per person with an initial £75 per person deposit payable on booking. The cost of fishing is included in the price.
For shorter term breaks please call us. For those of you who prefer the independence of self catering accommodation, please visit www.fbmholidays.co.uk , who have numerous cottages in the surrounding area at competitive prices.
Venue File
Holgan Farm, Llawhaden, Narbeth, Wales, SA67 8DJ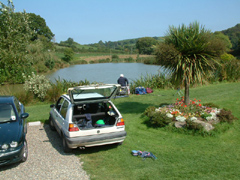 Car parking is convenient on each lake and the venue is suitable for disbaled anglers.
Contact: 07796 517586 or 01437 541285
Website: www.ian-heaps.com
Opening Times: All year round, 8am to 8pm
Tickets: Fishing is free for residents. For non-residents it's £7.50 per rod. The salmon and sea trout tariff is £15 per rod per day, available at onsite shop
Disabled access: Very good – there are disabled platforms on all the lakes
Match results: For match results from Holgan Farm, see below or CLICK HERE
Tuition: Ian Heaps offers personal tuition at £75 per day or £250 for five days (Monday to Friday)
Car Parking: The fishery has three car parks – one to each lake. Lawned walkways 12 to 15 feet wide lead to gentle slopes between the lakes on to the most comfortable of fishing platforms
How to get there: At the end of the M4 take the A40 west towards Haverfordwest. After passing through Robeston Wathen you come to Canaston Bridge. Turn immediately right and then take the next two right turns down to the river bridge. Do not cross the bridge but take the left hand road just before it. St Aidans Church is 200 yards on the right and Holgan Farm is a further 200 yards on the right