Former World Coarse Angling Champion Ian Heaps is staging a six-day angling Festival at his Ian Heaps Premier Fishery, Holgan Farm in Pembrokeshire in Wales, in what he describes as: "Probably the richest smallest match in the UK" (?) with a list of over 50 prizes over the three festival days.
Running from Sunday 20th April to Friday 25th April inclusive, the event comprises three days of Festival matches plus three separate Open matches on the days when the Festival matches are not held. Festival days are Monday, Wednesday and Friday. The open matches at £20 entry on Sunday, Tuesday and Thursday.
The festival is based on 60 anglers, 20 on each of the three lakes rotating through the three festival days, ensuring all anglers will have fished all three lakes.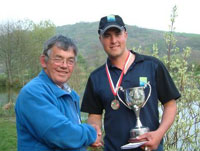 Ian with the winner of his 2007 Spring festival at Holgan Farm, Steve Barraclough.
The lake that you draw on the Sunday Open will be the lake that you fish on the Monday open match, from then you rotate clockwise through the week. i.e. if you draw the Carp Lake on Sunday and Monday you will fish the Tench Lake on Tuesday and Wednesday and the Match Lake for the final two days.
Points will be awarded as follows: 1 for first place, 2 for second place and so on, on each of the three lakes. The angler with the least number of points over the three days will be festival champion.
The first seven places on each lake will qualify for pools money and the top seven individuals on aggregate points after the three days will make up the overall prize list. The total prize fund will be £6,600.
Plus the angler who catches the largest fish during the three festival days will receive a cash prize.
Entry for all three Festival matches is £137.50.
On the three days the Festival matches are not being held there will be an Open match. Entry to these is £20 all-in, per match.
Accommodation is available at local hotels, public houses and guest houses.
Closing date for entry is Friday 21st March 2008 but check with Ian on availability.
Anglers interested in knowing more are asked to ring Ian Heaps on 07796 517 586.
Maggots, casters and worms can be pre ordered, see booking form for details.
To find out more about Ian's Holgan farm fisher, CLICK HERE