Main Pic: Fish O Mania is the No1 match fishing event in the UK and is aired live on TV.
Winter is the hardest part of the year for many anglers. For most of us, we can only daydream of sitting waterside or being out on a boat, with rod and reel in hand. Heck, we'd trade not going out at all for the most biteless day imaginable.
Fortunately, spring is just around the corner, bringing with it an action-packed calendar of fishing matches and events.
Here's the inside scoop on a few hotly-anticipated 2019 UK fishing series occurring now and into the fall.
Tansterne Fishery Winter League (now – 24 March)
The Tansterne Fishery Winter League is in full swing, with bi-weekly events taking place now through March. Anglers are invited to participate in the league or select matches.
Located in Tansterne, East Yorkshire Tansterne Fishery is a float-only venue with two sizeable ponds: Main Pond and Car Pond.
The Main Pond boasts a nice variety of fish, including mirror carp up to 30lb, common carp up to 18lb, tench, roach, and perch. Perfect for waggler fishing, the Canal Pond features chub, barbel, bream, and rudd, among other species. Tansterne Fishery is home to both recreational and match fishing.
.
Fish'O'Mania (13 March – 13 July)
We're looking forward to 2019 Fish'O'Mania qualifiers, which kick off on the 13 March at Viaduct Fishery in Somerton. In all, 22 qualifying events are slated around the country from March to June. The Fish'O'Mania Grand Final will take place on Saturday, 13th July at Hayfield Lakes, Doncaster, with the top 24 anglers competing for £50,000.
Now in its 26th and biggest year, Fish'O'Mania has become one of the U.K.'s premier angling events. This season's installment will be the first to feature a qualifying match exclusively for female anglers on Saturday, 20th April at Partridge Lakes.
Fish'O'Mania matches are governed by a combination of Angling Trust and local match rules, including the use of barbless hooks and prohibitions against floating poles or floating baits. Participants weigh-in every 30 minutes during the five-hour match. The winner is the angler with the greatest aggregate weight of the ten weigh-ins.
Golden Reel Competition (23 March – 14 September)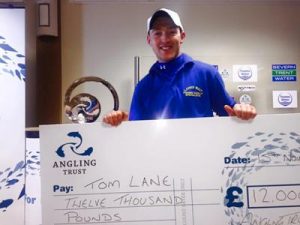 The Golden Reel Competition garners considerable attention from anglers and the media every year. With a £50,000 prize going to the eventual winner, the hype is well justified.
This year's Golden Reel series boasts 24 qualifiers, running from 23rd March at Viaduct to 17th August at Partridge Lakes. Each qualifier will adhere to the rules of the host venue and run five-hour competition heats. The final is slated for Saturday, 14th September at Larford Lakes
Angling Trust Riverfest (16 June – 3 November)
The Angling Trust Riverfest 2019 is a four-month series of qualifiers around some of the best stretches of river fishing the country has to offer. Largely procured by Dave Harrell Angling, Riverfest kicks off Saturday, 16th June at River Calder in Mirfield.
Finalists from the 24 qualifying events will gather at the Riverfest final on 2nd and 3rd November in Shrewsbury at River Severn. The finals will be a high-stakes affair featuring a £40,000 prize pool and a £13,000 top prize.
PokerStars Kayak Fishing Club (Date TBD, Likely Late-July)
Few spots on Earth offer the kind of pristine conditions for kayak fishing like those found on the Isle of Man. Anglers from around the world flock to this fishing paradise each season for a variety of fresh and saltwater fish.
The Isle of Man Kayak Fishing competition stands out as one of the favorite organized angling events here. Sponsored by online gaming site PokerStars, this annual competition enters its ninth year in 2019.
The competition follows a five-hour, catch-and-release format. Each participant documents his or her catches with a digital camera, and judges decide place finishers from the submitted photos. Prizes include cash for first, second and third place, as well as a fishing kayak raffle.
Details for this year's event are currently in the works, and a date announcement is expected soon.
Don't worry, anglers, prime fishing season will be upon us in no time. These late winter weeks are the perfect time to assess local events and set our schedules for the upcoming months. We'll see you out there reeling in the big one very soon!