Preston Innovations England Feeder Team just missed out on podium finishes this year in the World Angling Games in South Africa by finishing in a very credible 4th place in the team category and Rob Wootton finishing in 4th place individually.
This year saw South Africa host the 4th Sport Fishing World Games with 20 nations competing from 16th – 17th February. The Feeder World Championship was hosted on the Bloemhof Dam with teams challenged due to the large quantity of the fish species available.
Preston Innovations England team consisted of;
Steve Ringer
Mick Vials
Phil Ringer
Adam Wakelin
Lee Kerry
Rob Wootton
Eddie Bridon (Assistant)
Will Freeman (Assistant)
Dean Barlow (Manager)
Having just returned from the World Angling Games in South Africa, it's time to reflect on the result.
Day 1 – went quiet well with the bigger carp showing later in the match which Team England's plan revolved around and helped the team into third place, still in with a chance of winning.
Day 2 – with a gold medal in sight Team England didn't really change their tactics, which ended up the wrong decision as the bigger carp didn't feed like the day before! They ended up dissapointed securing fourth place behind a very strong field just off a podium position.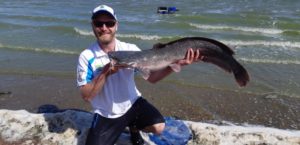 Top 4 team results;
1st Hungary – 39.5 penalties
2nd Netherlands – 54 penalties
3rd Italy – 63 penalties
4th England – 69 penalties
Top 4 individual results
1st Frank Van der Schaft, Netherlands
2nd Mirko Govi, Italy
3rd Christophe Cathelin, France
4th Rob Wootton, England
Dean Barlow, Preston Innovations England Feeder Manager said "Well done to Hungary on the win, Holland for second and Italy on 3rd. I would like to thanks Preston Innovations for their continued support who went above and beyond the call of duty sending tackle to South Africa to make sure we had what we needed. Also a massive thanks to Adrian Van Der Heever for his time and effort whilst over there. It's a shame we didn't get on the podium this year, but that's fishing and I take full responsibility for the tactics as we always fish for a good medal. Its another 17 months until the next championship in France, so the hard work starts now."
The Angling Trust would like to thank Preston Innovations for their continued sponsorship and support of the England Team and to the team for all their hard work this year.