The 2018 FIPSed 24th European Coarse Angling Championship was held in Slovenia on the River Sava at Radece from 21st – 22nd July which saw 30 teams competing.
Drennan Team England were, Will Raison, Sean Ashby, Des Shipp, James Dent, Matt Derry, Cameron Hughes, Mark Downes and Steve Sanders (joint managers).
Daily the river changed with heavy rain and storms affecting the levels and colour of the river. During the practice the river peaked on Tuesday with 12 to 16 kgs being caught in 4 hour practice sessions. The main species being caught were vimber, barbel, carrassio, roach and bleak. As the colour dropped out of the venue after Tuesday, the venue became harder and harder every day. It was decided that as a tactic the bolo was not going to influence the result and a pole and whip for bleak approach would be required for any chance of winning a medal. With the bleak averaging 5 grams in weight, it was decided that these would only be fished for as a last resort.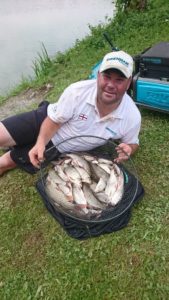 The England approach on the first day to fish 11 or 13 metres where the bottom was clean with bloodworm and casters in a groundbait mix of Gros Gardons and Sensas River mixed with Terre de River.
The team scores on the first day Italy 15, Hungary 19, France 21, England 24, Slovakia 24, Slovenia 28.
The England result on the first day was influenced by a really bad draw for James Dent in the deeps, being 8 metres deep at 11 metres and full of snags resulting in many lost fish but he stuck at it and scored 11 points, added to Will Raison 2 points, Sean Ashby 2 points, Des Shipp 4 points and Matt Derry 5 points giving a total of 24.
On the second day England were able to draw an end peg after having middle pegs on day one. Team England's end peg fell to Cameron Hughes who scored a section win on his England debut. Will Raison scored another section win for England with a fantastic performance in section C. Sean Ashby who had a really difficult swim in D section had to fish for bleak in the last 2 hours and clawed his way back up the section to finish 8th. In A and B sections Matt Derry and Des Shipp both scored 4 points with brilliant performances on the day, giving England a second day score of 18 points and a well-deserved bronze medal.
Overall scores Will Raison 3 points, Des Shipp 8 points, Sean Ashby 9 points, James Dent 11 points, Cameron Hughes 1 point.
Top 5 team results;
1st Italy – 29 penalties (82.218g)
2nd Hungary – 35 penalties (69.854g)
3rd England – 42 penalties (66.993g)
4th Slovakia – 47 penalties (65.033g)
5th France – 50 penalties (58.714g)
Top 5 individual results;
1st Giuliano Prandi – Italy
2nd Youry Siptsov – Russia
3rd Balazs Csoregi – Hungary
4th Will Raison – England
5th Andrea Fini – Italy
The Angling Trust and Drennan Team England would like to offer their appreciation to their sponsors Drennan and Peter Drennan and to Sensas for all their continued support.