Sloppy cat food is dead simple, dead cheap and dead effective. It will work anywhere with shallow water within pole range, whether that's the margins, an island or the far bank.

Although carp are the main target other species like skimmers, roach, barbel and tench seem to love the stuff just as much. This is useful as it means you can be putting something in the net all of the time while waiting for the carp to move in.
Simply cup in a ball of slop every cast and drop your meat hook bait through it.
The fish soon home in on the soup-like cloud before finding your hook bait. It may not look or smell particularly nice but the fish find it irresistible. It catches some really big 'uns too!
Bait
The bait menu is very simple: two or three tins of cat food for feed plus some luncheon meat for the hook.
I use Beef And Heart flavour Opticat, which contains lots of fish-attracting gravy. I push each tin through a 1/4in mesh groundbait riddle. One pass through the riddle creates particles large enough to reach the bottom in over two feet of water. For depths less than that I will push it through the riddle twice to create a finer cloud.
A splash of water helps make it even sloppier and prevents it drying out. I also add a generous squirt of BCUK Grub liquid additive. This stuff contains concentrated liquidised maggots plus liver and a few other attractants to get the fish's taste buds really going.
| | |
| --- | --- |
| Jamie prefers Opticat Beef And Heart for his slop. | Push a tin of cat food through a 1/4in riddle. |
| This is okay for depths over two feet. | Push it through a second time for finer feed. |
| A squirt of BCUK Grub liquid adds extra attractants. | A single 1/4in cube of meat goes on the hook. |
For the hook, I use 1/4in cubes of Plumrose luncheon meat. Larger or smaller hook baits are nowhere near as effective. I never add any cubes of meat to the slop as that just leads to liners and missed bites. Just rely on the sloppy mush as feed and a single cube of meat for hook bait. There's no need to complicate it.

It's a messy job so have a tub of water handy.
Wash Up!
This is messy stuff so I always have a tub of water on my side tray to wash my hands immediately after handling the slop. This keeps everything clean and muck-free, which is important for a smooth session.
Where To Fish
I tend to look for about two feet of water towards any sort of feature. I will also plumb up even tighter across in as little as 12 inches of water and have a separate rig set up for this.
Keep feeding exactly the same spot each cast and if you start to miss bites and/or foul hook fish try the shallower rig over the top. If this doesn't go under, push the rig tighter across in 12 inches of water and try for a bite there.
Feeding
This method is best fished from start to finish. The longer you fish it the better the swim gets. Although it looks like you are feeding a lot of bait there is actually not a lot of food content to fill the fish up. This means they should stay in the swim for a long time in search of food.
I use a bigger pole-mounted pot than normal to introduce a decent helping of slop each cast. I fill it right to the brim and tip it in to make an audible plop on the surface, which I'm sure helps to attract the fish.
Keep laying the rig in and don't just sit there waiting for bites. If the float hasn't gone under after a minute or two, ship back and refill the cup with more slop. You must keep that mushy cloud going in.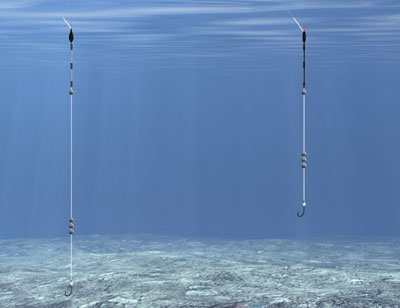 Rigs
I use two rigs: a bristled pattern for two feet of water or more and a dibber for half depth or shallower water. I use strong Black Ice Series 2s and Margins in 4×10 sizes. They are both simply shotted with a bulk of No10s six inches from the hook plus a No10 under the float as a depth marker. I tend to set my rigs an inch overdepth to start with and let the meat register on the bristle. This way you can always tell if your hook bait is on the bottom or not.
The beauty of this method is that the fish don't seem to mind thick lines and big hooks. I normally use 0.16mm Genesis Extreme II to a size 16 Maver MT3 hook and 12-20 Dual Core elastic. If the swim is particularly snaggy I'll step up to 0.18mm line, a size 12 MT3 hook and stronger 16-20 Dual Core. These are both strong elastics but with forgiving enough to come out even with a small fish on.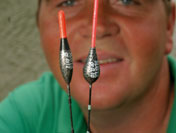 Jamie's float choices.
To cope with big fish in shallow, snaggy pegs a strong pole, like the Maver Top Game I use, is also essential.
The Rigs
Bristle: 4×10 Black Ice Series 2
Dibber: 4×10 Black Ice Margin
Thanks to Riverside Fishery, Bawtry, for the use of their lakes. Tel: 01302 711889.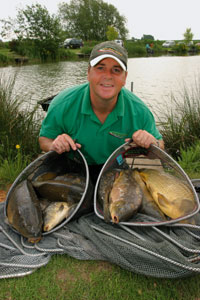 Job done again Jamie!
Jamie Masson's Top Tips
Use two or three tins of cat food for feed.
Use 1/4in cubes of meat for the hook.
Use a big pole-mounted pot.
Feed fine slop in two feet of water or less.
Feed coarser slop in deeper water.
Feed every cast.
Make a plop with your slop.
Use strong gear.
Keep laying the rig in.
Don't sit and wait for bites.
Try a shallow rig if you are missing bites.
Wash your hands.
Watch out for hungry cats!

---