Q1
Doing all these magazine features obviously helps you pick tips up very quickly. If you didn't do all these features do you think you would be an average angler? I think if I did all those features I would be a much better angler myself, as you are up to date with all the in/new methods and get shown how to do them the right way by the best anglers.
pelletking
I am a sponge for knowledge and don't miss much, so any angler I'm out doing a feature with will obviously help me become a better angler. I have always put a lot into my fishing, though, have always read loads of angling magazines and check out angling websites and fishing DVDs etc (even non-coarse/match etc) as it all helps to become a better angler. There are no short cuts but being out with so many anglers does help me assess my own fishing.
Think about it, though, as there are lots of angling journalists who don't catch or do half as well as you'd expect given the fact that they rub shoulders with the best in the world, so perhaps it's not just about that!
The other thing I must stress is that almost everything I glean from anglers is photographed and written down in features every month – so everything I learn you can too, simply by reading Pole Fishing magazine every month!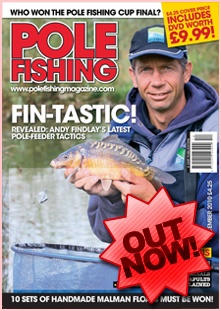 pelletking wins a year's subscription to Pole Fishing, edited by the man himself, Jon Arthur..
Geepster's Choice:
Wins a selection of 'On The Bank With..' and 'Match Fishing Masterclass' DVDs
SEE DHP'S MATCH FISHING DVDs

Q2
Jon, I'm having trouble with foul-hooking fish. It's a 14m wide snake lake, the far shelf (where the problems occur) is 2'9″ deep. In the warmer months a Method feeder for the first hour was the perfect answer. Now it's gone colder and clearer the Method's not working. It seems 4mm expander, maggot and bread are the best baits, have tried fishing shallow, pop-ups, fishing away from feed – still fouling 80% of the carp. If you don't feed you don't get bites. What would you try Jon?
Greybeard
I know a couple of venues like this where foul-hooking tight across is a nightmare. What I often believe is happening is that all the non-feeding fish have backed off as far away as they can from you and are swimming up and down tight to the far bank, where it is easy to foul hook them. They are often attracted to the bait you feed but won't touch it if it looks wrong. I would be tempted to scale down the line to 0.11mm or 0.12mm and use small hooks such as a size 20 or 18 Gama Pellet and very soft elastic such as doubled-up No5 or a single No8 – with light elastic you may be able to get the fouled fish in. Combine it with a lightly shotted 0.1g or 4×8 rig that will flutter and waft around rather than a heavier bulk rig that will shoot under whenever a fish accidentally brushes it. Try light baits such as maggot, dead maggot, corn skins, a 6mm piece of bread punch, 4mm expander rather than heavy baits like corn. I would definitely be thinking about fishing the bait off the deck too, anything from 2in to half depth. Also, try feeding half what you are currently doing – even if that means just 3 or 4 pellets or maggots a time.
Another option is fishing maggots and laying overdepth a few inches with a bit more float bristle showing. Then, only lift into a bite when the float disappears fully. This will stop you striking at every indication on the float and can often work better than dotting a float down.
If all this fails, come a foot away from the far bank or right down the far shelf instead as there's no point foul hooking everything and ruining your peg. Never ignore the deepest water down the middle at this time of year either.
Q3
I called my neighbour's house
Peg 2 the other day!…
Do you think about fishing all the time, when you are driving, watching TV, taking a shower, walking the dog or whatever you are supposed to be doing? I do all the time; my next match, what baits, what tactics, where will I draw. Is it normal to be like this? Thanks…
colboro
I don't know if it's normal, but yes I always have fishing on the brain too! I have a habit of calling footballers 'anglers' instead of players. I also called my next door neighbour's house 'Peg 2' the other day instead of number 2, so perhaps I'm worse than you!?
If I have a big match, my head is usually spinning before and afterwards. This year more than ever I have tried to switch off from it a bit though as last year was a bit too intense, traveling all over trying to chase Kamasan points.
This season I've deliberately taken my foot off the gas to keep me sane and haven't fished quite so much. I'm still well up for my first White Acres Silver Fish Festival though, and can't stop thinking about that at the mo!
Q4
5 Top Tips for a White Acres Festival Virgin?
NW Cut Angler
1. Go prepared with as many rigs and hooklengths tied as possible, as it's tiring enough fishing five days on the bounce without spending the evenings doing prep rather than winding down or socialising. The first one I fished was a 'mare' as there were so many things I hadn't considered. The last festival I fished was much better and I only topped up a few hooklengths and tied a couple of extra rigs all week.
2. Take silver fish rigs, even on the carp lakes, as 10lb of skimmers/roach/perch in the quiet middle hours can be the difference between a section win and nowhere.
3. Use the practice day to fish your Day One lake. That way you can hopefully be prepared and get off to a good start. You'll learn about the other lakes from other anglers as the week goes on.
4. Don't go thinking you will bag up every day. The fishing is quite hard on many lakes/pegs and you need to think about working for every bite. After all, it's 180 anglers fishing the same pegs for five solid days – and possibly two weeks on the bounce.
5. After drawing, listen to other people's opinions on your peg but don't let them dictate your match. Five different people will probably tell you five different ways to fish, so it could blow your mind! Keep an open mind, as each day is different.
Q5
Working for DHP within the angling press must have given you a fairly good helping hand in reaching the level you are at now. Where do you think you'd be if you'd never worked within the angling press?
GavinG
I would like to think I would still be fishing at the level I currently am and would hopefully be individually sponsored. I started off by writing my endpeg.com blog which I believe was the first proper match angler's blog at the time. That led to me being asked to be a monthly columnist for Match Fishing magazine, which led in turn to me being asked to work for the mag full time, and now I obviously edit Pole Fishing. I would therefore like to think I would have still be qualified to write regular articles for magazines even without this job. That in itself is very valuable to a sponsor as there is actually a very small percentage of match anglers that can write reasonably well and are computer literate. (I'm always looking for 'good' writers!) If the fishing thing had failed I would probably be a graphic designer or artist as that's my educational background, but something I sadly have no time to do any more.
Q6
Who would you say were your angling heroes when you were growing up, and why?
Dirkdiggler
It would have to be Kim Milsom as a well known angler as I loved his articles and they inspired me to write my own. The fact that he no longer fishes makes him even more interesting and legendary to me. I only ever fished one or two matches that he was also fishing but I was only a kid at the time, so never spoke to him. I know he had his haters, but I've heard so many stories (good and bad) from different people who each have their reasons for saying the things they do. Whenever I watched him he was great. I watched him on the Trent Embankment captain Essex to a win and he was great with the crowd that day. There is so much I think I could learn off him about so many methods…
Non-famous anglers would have to be my dad and brother plus Bob 'The Maggot' Taylor, Dave Armstrong and the late Alan Hancock, as they were all crucial in helping me when I was a lad.
Q7
Do you think chub have spoilt canal matches?
Woodhouse
I used to think so but most of the canals I now fish don't seem to have a head of them – plus in the canals that do, the chub don't always appear every match, so they are not always guaranteed match winners. That is perhaps my main issue with them as they are rarely evenly spread, so a match can sometimes be decided by who draws the noted chub bush etc. I do love catching canal chub however, as it's arguably the most exciting way to test a pole to its limits. I love catching roach on delicate gear more, though. The problem is that chub make mincemeat out of light roach rigs on canals!
I've spoken to so many top anglers who all agree
that bank walkers can definitely put the fish off
Q8
Do you think bank walking should be banned in matches?
Woodhouse
It depends on the match really. In a team match, competitors walking should probably be penalised. If you walk in an individual match there is a good argument for you not being able to weigh in – it is a good rule I see enforced on some canal matches I fish. It's very rare that I give up and walk the bank. I know some top anglers deliberately do it to give their swim time to settle, go back and empty it – but I would rather be rewarded for sitting on my box for the duration.
I know some anglers that get blasé about the subject and believe it puts the anglers off more than the fish but I've spoken to so many top anglers who all agree that bank walkers can definitely put the fish off, especially venues that aren't used to them.
Some venues aren't a problem, such as feeder venues where you are casting a long way (but even anglers like Fin have told me they believe the fish can still be put off!), and places like Barston where there's a public footpath and next to no margin fishing, coloured venues etc. Clear rivers, rural canals and narrow F1 venues are different though and walkers can definitely affect your catches here at times. Interestingly, a spectator can look like he/she is really close while you are sat down fishing but several times I've only realised afterwards that they are actually plenty far away to be doing no harm. I can definitely get paranoid about it at times and have upset people in the past, which I'm sorry about. On the flipside I had a bit of a fanclub behind me on the canal the other week. I could have told them to move but I had a nice chat with them while I fished and just tried to ignore the fact that they were standing directly over my peg. Despite it fishing hard and the canal was quite clear, they didn't stop me framing! The peg was solid with small roach, though, and I suspect bigger roach would probably have backed off.
One more observation I have proved countless times on features is when I have my camera taking pics on the bank it often slows the angler's catch rate down, yet if I get in the water with my chest waders to take pics the fish rarely seem to mind!
Q9
With all the top anglers you have watched doing features, who do you think could fish for England?
Lloydy1970
I am not saying they could replace any of the current England seniors as the current team is pretty flawless, but some of the ones that I definitely think are 'England class' have to be Lee Kerry, Hadrian Whittle, Simon Willsmore and Lee Edwards (yes, I know he's a Welshman!). Lee Kerry works hard and seems to be good at everything: bloodworm and joker fishing, float, feeder, carp, roach. He is also a match winner, not just a section winner. Hadrian's river skills are legendary but he can still turn his hands to canals and commercials when he wants to and seems to have real natural ability.
Simon is great to watch, very smooth and focused and great on small fish like bleak and gudgeon.
Lee Edwards is awesome at everything and I don't know many people that can switch from places as diverse as the River Wye to Woodland View with such ease. Definitely Wales' best chance of an individual gold.
Then of course I mustn't forget Mark Pollard who is unbelievably good, not just on drains/canals like many people believe. He is great on rivers, you don't want to draw next to him on a commercial, especially for F1s, and I've watched him waggler fish as well as anyone.
Q10
Why the hell aren't you sponsored? When I read your articles it always states: 'Sponsors: None'? As you have won loads, what's going on? Surely you have had offers? And as you aren't, do you fancy fishing for my team in the Angling Times Supercup?  Cheers.
Hempseed
I am a member of the Shakespeare Superteam but aside from this team commitment I have to be un-sponsored or else I could be biased towards a company. I need to be impartial and that's why I happily use Sensas, Sonubaits, Dynamite Baits etc and have gear from Preston, Drennan, Fox, MAP, Garbolino etc. In this respect I am actually quite lucky in that I can pick and choose what I want to use!
Q11
Which do you prefer: casters or pellet for fishing shallow?
bign
Definitely casters. Caster shallow helped me qualify for Fish O Mania the first time at Lake View and has won me big matches in the past and this year such as the Drennan Cup at Lindholme. They sink so much slower than a pellet, but you need somewhere without too many silvers about for it to be effective. If in doubt, take both!
Q12
Does top flight match fishing need a set of generic rules that apply to all waters?
Anthonywaters
I personally think 'no'. Every venue is different and it is up to the venue to decide what is best for their fishery, especially regarding baits and limits. The only fixed rules should be basic Angling Trust model match rules, eg. 16m pole limit, no pike/zander, no cupping in with a separate rod etc.
I hear a lot of people moan about rules being different everywhere they go but 'most' aren't too hard to get your head around. All it takes is a quick scan on the rules board before you fish or a phone call, website visit. It's angler ignorance that tends to cause most problems, but we can all read!
Problems occur when a venue keeps changing the rules without updating the signs/websites, has one rule for regulars and another for clubs, bans things for no sensible reason, or simply doesn't police them.
 I don't understand why pull bungs should be banned on any
venue, as they do much more good than bad
I don't like seeing too many rules though. The 'no rig slapping' rule is silly as I personally don't think this constitutes a 'bolt rig'. Similarly, I don't understand why pull bungs should be banned on any venue, as they do much more good than bad.
I fully understand why many venues have a keepnet policy eg. 50lb per net, but it is a bit harsh to completely disqualify someone that is 1lb over when there are other less serious punishments/deterrents that could be dished out.
Q13
Jon, with being a member of the Shakespeare Superteam and having one of the most successful years team match fishing ever last year, winning everything in the same year, where's the next move and how do you think team fishing can be improved further, as in my view team fishing is beginning to fall apart?
joffmeister
Shakespeare had a great season in 2009-10 but it is definitely Starlets and Barnsley's joint season this time. Team fishing is getting harder and numbers are dwindling for a number of reasons, not least because of the recession, cost of bait, travel etc. The cost of entering hasn't gone up much and neither has the prize money you can win. One problem is that many anglers now have a choice where they fish when before they only had big team events. They no longer need to get beaten by better anglers every week when they have much more friendly and familiar matches on their doorstep – these are often just as lucrative when everything's weighed up too! There are loads of tiny matches everywhere and at the end of the day most anglers just want to catch some fish and feel good about doing it. Only a small percentage now put up with spending a lot of money and traveling all over to get little in return – even if it is the best way to learn and gain experience.
To win consistently on commercials, you also have to be completely in touch with them and that stops many anglers venturing onto other circuits like canals, rivers, team fixtures etc.
The match organisers are also getting fewer as people have less time on their hands to take on such big responsibilities AND fish the matches themselves, which they naturally want to do.
To bring team fishing to the level it 'should' be, we need to get people to once again aspire to fish for (or beat) top teams. The only way to do that is to make a real Premiership-style tier that is so much bigger than anything else currently out there.
To work, I think it should be manufacturer driven with manufacturer-based teams: Maver, Preston, Fox, Garbolino, Daiwa etc. It would probably be best with five or six-man teams from a named squad of eight and there needs to be a big incentive for it to work i.e. money! If all the companies bought into the concept I am sure it would give coarse fishing, match fishing and especially team fishing the much needed injection it needs. Until it does, team fishing will continue to dwindle and individual events like Fish O Mania, Match This etc will continue to dominate.
Q14
Jon, I gave up fishing most Sundays because wife told me to! I think my fishing has suffered. What can I do?
PS But my marriage has improved
PPS She told me to say that.
Stretch2
There is definitely more to life than fishing, so you need to be happy in life first and foremost. Rather than have a blanket ban on Sundays you should negotiate days when you can and cannot fish. This would avoid any ill feeling and resentment that could arise from being deprived of your hobby. I'm sure if you promised to do all the things she asked, you will be rewarded with extra days fishing in return, too. After all, a happy marriage is one based on good communication – I should be an agony Aunt! Alternatively Dave, introduce Sue to 'Big Leeroy' next door and she might not mind you being away on Sundays so much 🙂
Q15
Jon if you were to be asked before a match if some one could lend you a Sensas bucket and you let them borrow it, would you expect it back? If so, where is my bucket you borrowed at Barston on the UK champs, ya thievin' git!
daddy mo
Hmm. I have asked a certain Mr Grant Albutt this question as I left the bucket by his van after the match and texted him to let him know it was yours as you travel with him. Until I read this question I assumed you had it back. I have only just found out that you never got it as he actually chucked the Sensas bucket away (he is a VDE rep after all!). Apparently, he never got my text til after he hoofed it halfway across the 18th hole at Barston. As a special prize, I will get you a shiny green Sensas bucket for you to fill with the gallons of maggots you chuck in everywhere. I might even draw the smiley face of a silverback gorilla on it so you can remember where your last one actually went!