The Preston Innovations backed 2010 UK Angling Championship comes to a head this week (11th August) with the final round at Barston Lake nr Solihull.
The last round saw upset as virtually all of the front runners in the league had gruellers and many of the early favourites slipped down the leader board. Current race leader Pete Bailey (Ultima) managed a third in section which was enough to keep him a nose ahead of Darren Cox (Garbolino) who has been consistent throughout. Just one point separates the two front runners with the advantage currently in Bailey's favour.
The final round will see the two go head to head to decide who will be crowned UK Champion and the whole series will be broadcast by Sky Sports in September. A win for Bailey will be his first podium in this event, whereas Cox finished second to Tommy Pickering last year by the narrowest of margins. As a result he is desperate to obliterate this memory by going one better.
In the chasing pack there are a number of anglers who are still able to taste victory overall if Bailey and Cox stumble so you can rest assured that the competition will be stiff on the day.
Such is the popularity of the event this year that the top 40 will get automatic entry to next years event whereas the bottom 40 will have to qualify. Competition down the table is as stiff as higher up as everyone wants to retain their slot and battle it out for a place in history for 2011.
For the time being though, all eyes are on Bailey and Cox to see just how the Battle of Barston will pan out.
For more info about the UK Angling Champs or to get your name on the waiting list for next year log on to www.ukanglingchampionship.co.uk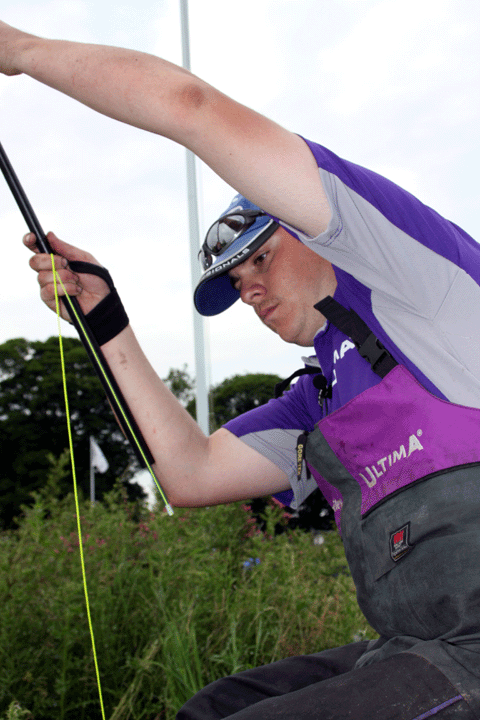 Pete Bailey leads the 2010 UK Champs going into the last round….