A brand new Ladies Fishing Club based in the North East of England has so far attracted over 40 female anglers.

Lucy Bowden, 21, founder of www.fishingforeveryone.com <http://www.fishingforeveryone.com/> and Public Relations Coordinator at Hardy & Greys Ltd set up the FFE Ladies Fishing Club to encourage and promote more ladies into angling and has just held her Club first event.

The fishing day, held at Chatton Trout Fishery saw twenty girls, mostly novices aged between 11 and 65 and travelling from as far away as Essex take to the water.

With tuition and equipment hire from the Environment Agency and prizes generously donated by Hardy & Greys Ltd the day got off to a flying start.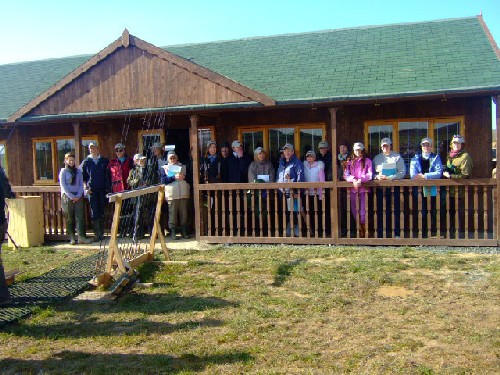 Some of the girls at Chatton Trout Fishery lodge.
Jessica Williams (11) who attended the event said;

"The day was fantastic, planned to perfection and every lady went home with the confidence that they could now go fly fishing alone – or even with one of the new friends they had made !"

Lucy plans to hold a FFE Ladies Fishing Club meeting every month at a different venue and encourages more ladies to come along- "I would like to see more girls take to the water and It would be great if they would come along and try it!"

For more information on the club or to join visit www.fishingforeveryone.com <http://www.fishingforeveryone.com/> or email info@fishingforeveryone.com

Dates for 2008 FFE Ladies Fishing Club-

Saturday May 31st
Saturday June 21st
Saturday July 19th – Start of National Fishing Week 2008
Saturday August 23rd
Saturday September 27th
Saturday October 25th