Peg 15 on Willow, a noted spot.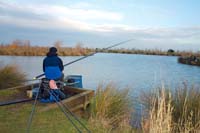 ONE of the great things about Lawn Farm is that it's a water where all the fish, including the carp, continue to feed right through the colder months.
Indeed, on the cold, late-January day of our visit, carp of 17lb, 10lb and 7lb were landed by pleasure anglers on one side of Willow Lake, while match anglers were targeting and catching silver fish on the other side of the venue.
There are actually four waters on the site. The 20-peg Crab
Crab Tree Lake – small but beautifully stocked.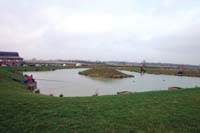 Tree Lake is about three-quarters of an acre and is stocked with chub, orfe, perch, roach, rudd, tench and, of course, carp that run to about 10lb.
Next to it, Cherry Tree Lake, which is about the same size, also holds 20 anglers. This water holds some bigger carp that run to about 16lb but otherwise has the same stock of fish. On both venues, which are usually reserved for pleasure anglers, the deepest point is six feet.
Match anglers tend to fish Honeysuckle Lake, although on the day of our visit a small match was taking place on Willow Lake, which is also normally reserved for pleasure anglers.
This water is quite deep, with around nine or 10 feet on the pole line, and the deepest spot is around 12 feet.
At 38 pegs and 21/2 acres, it holds some very big carp to 25lb, plus barbel, a lot of small chub, skimmers, gudgeon, tench, roach, rudd, orfe and perch. There are some large perch to be had but also thousands of very small perch, which can be annoying for those who fish maggots or pinkies.
The carp feed right throught the winter here.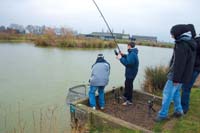 You will find, on plumbing up, that the near side slides away steeply from four to nine metres. Silver fish and perch can be caught on this slope, while skimmers should be targeted at the bottom of the ledge. Casters, maggots and pinkies all come into play here, but it pays not to feed too much groundbait.
Chub tend to hold near to the island but the margins of the island, which you can only reach with waggler or feeder, come more into play for both the carp and chub in the warmer months. Chopped worm is a method employed by owner John Logan, who fishes the matches himself and says that it picks off all the species in there.
The lake has a horseshoe-shaped island with a bay that you can't cast into as it's cordoned off.
The main competition water is Honeysuckle, a purpose-built, 40-peg match water on which every angler can reach the island with 13 or 14 metres of pole.
This lake is 21/2 acres and holds brown goldfish in addition to bream, barbel, carp, golden orfe, gudgeon, roach, rudd, tench and chub, which are larger than in Willow.
St Neots match angler Nigel Fawkes was fishing the match on Willow during our visit. He had a
Lawn Farm regular Nigel Fawkes.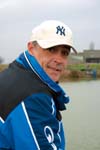 fantastic run of match wins on Honeysuckle last year, fishing the pole to the island for good chub.
He loves Honeysuckle and says the key to keeping the chub coming was to have three lines going at the same time. We intend to feature the water in a couple of months, as Nigel says the fishing comes into its own around the start of March.
Last summer 21/2-hour evening matches were being won with up to 45lb of chub but, that said, the water also holds a good head of carp from a few ounces to 5lb. These can be caught on the bottom down the middle or up to the island, with pellets a key bait. The match record is 89lb of carp.
Friendly fishery owner John Logan.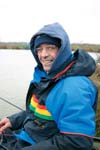 Our visit provided a good insight into what you can expect at Lawn Farm. Each pleasure angler we spoke to said they liked the fact that it's a venue where the carp keep feeding all winter, and we saw carp to 17lb landed (on boiled peanuts!), to prove the point. Meanwhile the match anglers were happy to ignore the carp and target only the silver fish, the match we witnessed being won with 13lb of mainly roach and skimmers, with 11lb second.
This is a good venue that holds its form in the colder months. It is very angler friendly with a good tackle shop and a friendly atmosphere under the stewardship of John Logan.
Venue Fact File
Lawn Farm Fishery, Elsworth, Cambridgeshire
Contact: Owner John Logan on 07774 943050
Tickets: £5 for one rod, £7.50 for two. Concessions for OAPs, disabled anglers and under 16s
Website: www.lawnfarmfisheries.fsnet.co.uk
Matches: Generally, opens are held on Honeysuckle Lake, which can also be booked for club matches
Tackle shop: There is a good tackle shop on site, tel 01954 718269
Facilities: Tackle shop and toilets on site
Restrictions: Barbless hooks only. No keepnets except in matches. Landing nets must be dipped. Tiger nuts and boilies banned
How to get there: Lawn Farm Fishery is off the A428 on the access road to the village of Elsworth. Coming from the A14, take the A1198 signposted Royston and Godmanchester. After six miles after going past Papworth Hospital, take the first exit off the roundabout onto the A428. After about 300 yards filter off to the left and up to a roundabout. Take the first left towards Elsworth and look out for a sign marking the entrance to the fishery about 300 yards on the right.