Venue: BODDINGTON RESERVOIR
Date: 13 August 2009
RESULT, ROUND 5 (of 7)
1st John ADAMSON Kobra Feeders 255 lb 5 oz
2nd Lee ENSALL Litchfield 181 lb 4 oz
3rd Anthony WHITE LEVAS 164 lb 3 oz
4th Alan WALTON Coventry 143 lb
5th Lee WESTWOOD Litchfield 96 lb 15 oz
Number of anglers fishing: 20
Report
In the fifth match (in the series of seven at Boddington Reservoir), Long Eaton based John Adamson (Kobra Feeders) took a 1 win advantage with his third consecutive win. Fishing peg 9 on the road bank, John landed 38 carp on method feeder fished at 40 yards for a weight of 255 lb 5 oz. This puts him on three wins and two second places so far. (Photograph attached shows John with part of his winning weight).
Second place fell to Litchfield angler Lee Ensall (peg 15) with a 34 carp catch of 181 lb 4 oz. Lee's two wins and two seconds puts him in a strong position as each angler counts his best 5 results at the end of the series.
Beeston angler Anthony White (LEVAS) took third place with 28 carp weighing 164 lb 3 oz from peg 14.
The league leaders are: John Adamson 58; Lee Ensall 46; Tony Billington 37; Anthony White 36; Lee Westwood 36; Dave Kent 35.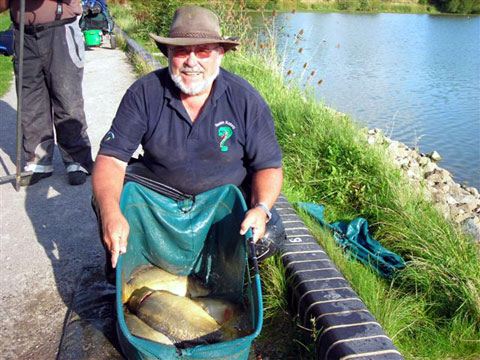 John Adamson Kobra Feeders
Click on www.total-fishingclub.com – the UK's No1 online match fishing club – to win a trip to the world match fishing championships, and save money off tackle