Pics Steve Lockett…
Report from www.news-reel.com
Leeds angler Lee Kerry landed a fantastic double after winning the 2010 Parkdean Masters title in a thrilling head-to-head with Wales international Lee Edwards.
In bright sunshine on Jenny's Lake at Cornwall's White Acres fishery, Kerry recorded the best match weight in the eleven-year history of the event to claim the £25,000 first prize.
The 27-year-old angling consultant was pushed all the way by Edwards in one of the tightest contests in recent years.
Kerry, a Preston Innovations-backed angler and Total-Fishing.com regular, had already achieved one of his greatest ambitions by winning the week-long qualifying festival leading into the Masters final.
In doing so, he became only the second angler in the history of the event to win the festival, and then go on to win the prestigious Parkdean Masters final the very next day. The only previous double winner was Neil Machin in 2006.
Kerry was first to draw, ahead of a field containing a host of top anglers. Former World Champions Alan Scotthorne and Tommy Pickering, England regulars Des Shipp and Darren Cox and former Parkdean winner Adam Wakelin were among the 24 who qualified to compete for the title.
He pulled out peg 16, and elected to fish the long pole shallow to target carp in open water. Next door on Peg 15 was Edwards. The 35-year-old Welshman matched Kerry fish for fish throughout the four hours of the contest, watched by a large crowd.
Their main rival for the title was 2007 Parkdean champion Des Shipp on Peg 1. Shipp, fishing long pole and worm, caught consistently but was left frustrated as a quiet last hour cost him dearly.
While Shipp was struggling as the clock ticked down, Kerry and Edwards battled hard, using similar shallow tactics to tempt White Acres hard-fighting carp. With half an hour to go, Kerry broke clear, landing three big fish in a nail-biting finish.
But Edwards kept everyone guessing, slipping the net under a superb carp approaching double figures as the hooter blew to signify the end of the match.
Shipp weighed in 64lbs 1oz, with 28lbs of silverfish, including several large tench putting him into the lead as the scales went round.
The weighing party arrived at Kerry's peg, where a large crowd witnessed a nervous 10 minutes which saw the man on peg 15 weigh 99lbs 12oz.
Edwards was last to weigh in – and totalled 90lb 8oz to claim second place.
Kerry said: ''The match went well from the start. I knew when I drew Peg 16 I had a chance – but there were some top-class anglers around me and I knew I had my work cut out.
''I caught steadily, but lost a couple of big fish, including one about 8lbs early on. I knew it was going well – but Lee Edwards pushed me all the way.
''When the match finished, my nerves were in shreds waiting for the scales to come round. I'm so proud to have won it. I've had good draws and capitalised.
''To win the festival last week was fantastic. To follow it up by winning the Masters title is amazing.''
After collecting a cheque for £25,000 and the Masters trophy, Kerry celebrated his victory with a traditional dive into Jenny's Lake.
Lee starred in OnlineFishing.tv's The Young Barnsley Blacks episode of 'Match TV' which can be viewed by clicking on the link below.
http://www.onlinefishing.tv/channel/list/none/34/latest/1/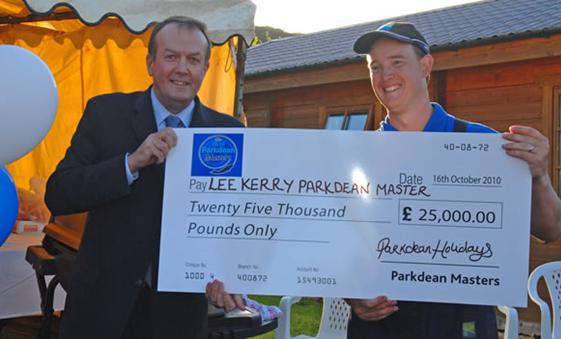 To the winner, the spoils – Total-Fishing.com regular Lee picks up his £25,000 winner's cheque for winning the 2010 Parkdean Masters final.
2010 Parkdean Masters Final Result
Name Peg Weight
1st Lee Kerry 16 99lb 12oz
2nd Lee Edwards 15 90lb 08oz
3rd Des Shipp 1 64lb 01oz
4th Andy Bennett 18 63lb 03oz
5th James Dent 8 62lb 06oz
6th Ben Fisk 5 60lb 05oz
7th Andy Geldart 20 52lb 07oz
8th Lewis Murawski 34 44lb 14oz
9th Mark Harper 32 42lb 03oz
10th Andy Power 17 40lb 05oz
11th Darren Cox 41 36lb 06oz
12th Tommy Pickering 48 35lb 02oz
13th Adam Richards 4 32lb 03oz
14th Karl Webster 33 29lb 01oz
15th Kieron Rich 28 29lb 11oz
16th Chris Kitchen 40 27lb 09oz
17th Paul Yates 44 19lb 13oz
18th Callum Dicks 46 17lb 05oz
19th Cameron Hughes 30 17lb 04oz
20th James Hawkins 21 17lb 07oz
21th Timmy Rowe 43 16lb 11oz
22th Adam Wakelin 7 15lb 10oz
23th Paul Burton 2 12lb 06oz
24th Alan Scotthorne 27 09lb 03oz
---