More proof that the online story continue to boom comes from angling website Total-Fishing.com, which has just announced record traffic figures.
Statistics taken from the industry standard, Google Analytics, show that nearly 32,500 anglers visited the website in July 2009, a record for what's already regarded by many as one of the top angling websites.
Total-Fishing.com's Gareth Purnell said: "If companies are looking to promote online, and they should certainly be putting some of their marketing spend that way, the figure they need to look at is 'absolute unique users', which is the number of different anglers visiting the site each month.
"The websites that have constantly-updated content like Total-Fishing.com, and which have been established a long time, will have more page rankings in Google and that's a big factor in helping to driver higher unique user figures."
In July 32,493 anglers visited Total-Fishing.com, creating over 880,000 page impressions and spending over seven and a half minutes on the site. Each user looked at eight pages on average.
One thread on the site's forum about TV fishing match Fish 'O' Mania was viewed over 36,000 times in one week!
More details from gareth.purnell@btinternet.com .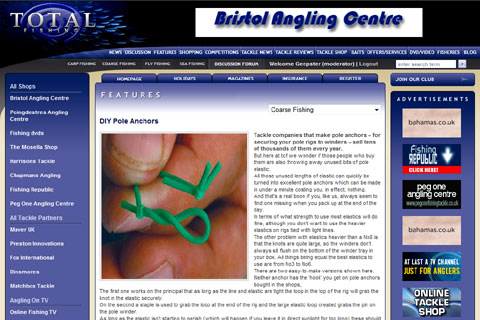 Click on www.total-fishingclub.com – the UK's No1 online match fishing club – to win a trip to the world match fishing championships, and save money off tackle