Anglers had been saying before the off that the bream would be tightly shoaled with conditions going very clear for the big match, but nobody anticipated that almost all the feeding fish would be in one peg in this 140-peg sellout sponsored by Dulley Ceilings and Partitions Ltd.
In the event there was a fantastic winning weight of over 170lb for Mick Hanks, a River Yare regular. Mick had effectively won the match in the first 30 minutes after taking a bream third cast and then never looking back, bagging around 40 fish in all and finishing only two short of the record for the lower river.
In one of the most one sided matches on record, second placed Steve Beeham weighed in 12lb 5oz from five pegs away from Mick Hanks at Molesey, and that included and 8lb pike, while off the next peg to Mick, Jimmy Archer's 8lb 14oz (two bream) was enough for third. But for the rest of the field it was a grueller. There were over eighty blanks, with several sections won with ounces.
"The shame was that in practice bream were showing all over the place, with double figure bags of roach there for the taking," said organiser Dave Harper. "But the colour completely dropped out of the water and coupled with a cold night, the fish simply switched off and shoaled up."
But it was all plain sailing for Mick, who explained to me after the match: "I fished quite a way out at the bottom of the far ledge with chopped worm and caster in the feeder and worm on the hook. First cast I never had a bite. Second cast I had a perch, and then the bream moved in."
Mick, who picked up £1,000, started on a 0.12mm hooklength. But after being broken by a 5lb bream, he stepped up to 0.16mm, finishing on 0.18mm after being broken again.
"The hooked fish were charging up the shelf and were not like normal bream at all. I was getting a couple of turns onto the reel but on three occasions that wasn't enough. I got broken twice on 0.16mm and lost another three by pulling out, so could easily have taken the river record."
The event had excellent sponsorship with £100 for each ten peg section, and sponsor Chris Dulley was very upbeat after the event.
"Fishing is my passion and I'm delighted to be associated with events like this. I know the fishing hasn't been great today, but the response from anglers has been tremendous. I'm very positive about doing this again in 2009," he said.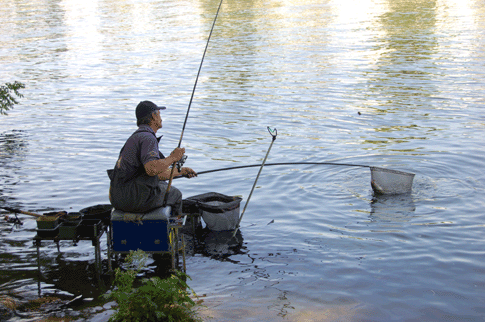 Dream draw, easy win for Yare regular Mick Hanks.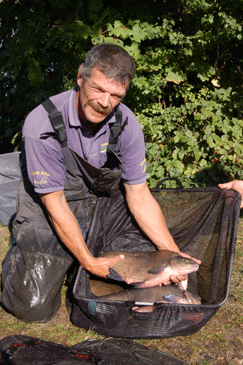 Mick with three of his forty odd bream,,, second placed Jimmy Archer (right) was pegged next door.