The latest issue of Game Fisher's Diary includes a brand new episode of the series of the same name in which Rae Borras takes up an offer to explore the game fishing potential of a secluded island hideaway in The Maldives – after all, who wouldn't?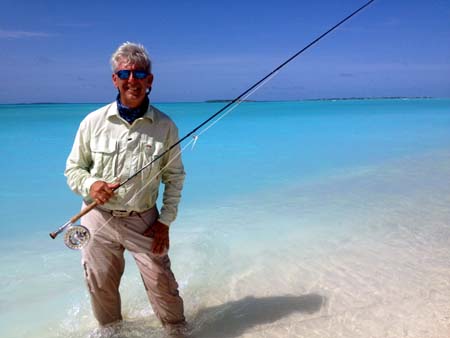 With the help of local guides who know this idyllic part of the Indian Ocean intimately, Rae takes to the shoreline and to the boat to target all manner of colourful species, both large and small, on both flies and lures, including some for which 50lb line is simply 'not enough'.
This new episode is free to view, split into three parts, in the latest issue of Game Fisher's Diary online, on mobile, on tablet on this website and on Samsung and Panasonic Smart TV and blu-ray under the Fishing TV app.
WATCH 'GAME FISHER'S DIARY' NOW
Tried Fishing TV Premium?
Over 1200 great shows and no adverts. Access from only £3.99 per month.
See http://www.onlinefishing.tv/premium/all/programmes/all/release
There's loads more for game anglers in Issue 19 of Game Fisher's Diary, including:
Jeremy Wade
Fishing TV continues its series of exclusive interviews with globetrotting presenter of River Monsters.
The King Of Fish
First part of a fabulous episode of Green Tide with the magnificent kingfish the fly fishing target…
Home For Salmon: Ryanda River
The story of the salmon at the Atlantic Salmon Reserve of Kharlovka in the Kola Peninsula of Russia moves to the incredible Ryanda River.
Pike On The Fly
Nick Hart continues his series on how to use your fly gear to catch pike.
Salmon Beats of the Dee
Brian Simm is your guide to the beautiful Crathes Castle salmon beat of the Aberdeenshire Dee.
Lost World of Mr Hardy
Clip from the evocative film about people who dedicate their lives to the pursuit of perfect fly fishing tackle.
Fly Fishing Showtime
Chris Ogborne and Steve Peterson give a rundown of some of the latest fly fishing gear from Hardy & Greys.
Salmon Fly Of The Month
Fly tyer and guide Karl Humphries shows how to tie up the classic Witch salmon fly in Magenta.
Trophy Waters
Keith Mitchell fishes a small stillwater stocked with magnificent brown and rainbow trout.
Fly Fishing News
Top fishing presenters John Wilson and Keith Arthur call it a day; world record trout; Hardy announce their new Pro Team; Cuba Grand Slam.
Speycasting Masterclass
The master caster Eoin Fairgrieve progresses to the double spey cast…
Wild On The Fly
An adventure into the wilderness north of the Arctic circle in search of giant sea-run Arctic char…
TackleZone
Hardy Jet Series. Light and easy to use fly rods built on a SINTRIX blank for improved strength and durability.
Sportfishing With Col Prince
Globetrotting game angler Col Prince guides his daughter to her first sailfish off Quepos in Costa Rica.
It's all available online, on mobile, on tablet on this website and on Samsung and Panasonic Smart TV and blu-ray under the Fishing TV app. Find out more at www.fishingtv.com.
Just click on the link below to get started, and use the arrows to scroll through the playlist.
WATCH 'GAME FISHER'S DIARY' NOW
http://gamefishersdiary.com/
Fishing TV – At Last A TV Channel Just For Anglerswww.fishingtv.com