Jason Johonnesson fulfilled a dream when he landed this monster 70lb buffalo carp from a lake in Texas.
"My friend, Peter Christensen from Denmark, is here to fish in Texas for the very first time and I am ever so anxious to see his expressions as he lands his very first buffalo carp," recalls Jason.
"Peter, immediately captures a 50 lb buffalo! Next to come is a 52 lb buffalo! Before the trip I had promised him a 40, so the only thing that Peter can think to say is "So what happened to the 40 lb you promised me Jason?"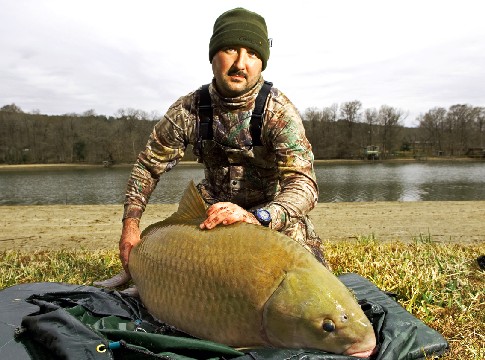 "Thankfully for me Peter would not have all of the glory because soon to grace my unhooking mat is this 70lb 8oz beauty. Not only a personal best, but to my knowledge also the biggest specimen ever landed during target fishing.
The specimen was captured using a Pro Logic XLNT Rod, C2 hook, and a range cube/maize combination flavoured with DD Baits Pineapple Flavouring.
Read more about Jason's carpfishing in Texas on www.texasbuffaloadventures.com