14 teams of five
70 pegs
After two dismal days of most anglers struggling for ounces it was generally felt that day three, with bloodworm and joker allowed, would be better. It was, and even with the river at its lowest level in months roach made all the leading catches and Hadrian Whittle turned in a brilliant long pole performance at shallow Peg 27 to win with 15-1-0.
Second, at Peg 7, was Michael Buchwalder with 14-1-0 and third was last year's individual winner Gary Miller with 13-15-0.
In the team stakes the in form Shakespeare Superteam turned in yet another solid five man display and continued its fantastic run with 58 points, ahead of Fox Match Trentmen with 55 and England Ladies with 50.
RESULTS
1st Shakespeare Superteam 58 points
2nd Fox Match Trentmen 55
3rd England Ladies 50
4th= Daiwa Gordon League 45
Van Den Eynde 45
6th= Daiwa Dorking 39
Kamasan Starlets 39
8th Maver Barnsley 38
9th Drennan Oxford 35
10th Quorn VDE 30
11th Saints 27
12th Shakespeare Mach 3 26
13th Evesham & District AA 21
14th WB Clarke 18
INDIVIDUALS
Top three
1st Hadrian Whittle (Kamasan Starlets) 15-1-0 (Peg 27)
2nd Michael Buchwalder (Shakespeare) 14-1-0 (7)
3rd Gary Miller (Van Den Eynde) 13-15-0 (50)
Sections (outside top three)
A – Darren Bickerton (Fox Match Trentmen) 10-11-0 (10)
B – Dean Barlow (Van Den Eynde) 6-14-0 (18)
C – Helen Dagnell (England Ladies) 9-15-8 (36)
D – Gary Pook (Daiwa Dorking) 7-12-0 (51)
E – Pete Scott (Fox Match Trentmen) 8-11-8 (75)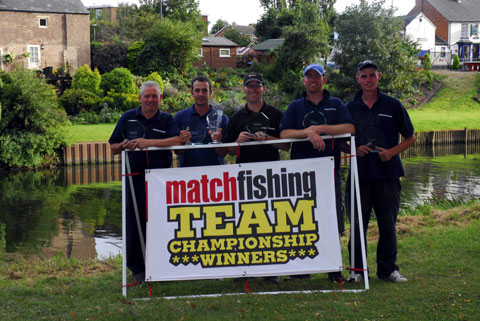 Shakespeare Superteam
Click on www.total-fishingclub.com – the UK's No1 online match fishing club – to win a trip to the world match fishing championships, and save money off tackle