Sunday 30th August
70 pegs
If everyone thought Saturday had been hard little did they realise at the draw for this match just how much harder the venue was about to become.
The river fished terrible all the way through but one man who wasn't complaining was Wayne Swinscoe who added £3,000 to the £2,000 he'd won the day before. Wayne drew Peg 27 in an area where most people had spent all the previous day fishing for barbel. As a result he was one of the few who could get bites on the waggler all through from tiny dace and bleak. At the weigh in his 6-10-8 was way out in front with his nearest challenger Dave Kirk, at the next peg number 29, three pounds behind with 3-10-8 of waggler caught small fish.
Down at Hampton Ferry Simon Willsmore was amazed to learn that his 3-2-0 of eels was enough for third and another £1,000.
Tony Skinner picked up £500 for his waggler caught 2-13-8 of gudgeon and small dace from Peg 2 and the final main prize of £250 went to Alan Stephens with 2-12-4 of small fish from Peg 22.
RESULT
1. Wayne Swinscoe (Trabucco) 6-10-8 (Peg 28)
2. Dave Kirk (Fox Match) 3-10-8 (Peg 29)
3. Simon Willsmore (Milo/ Daiwa Dorking) 3-2-0 (Peg 56)
4. Tony Skinner (Shakespeare) 2-13-8 (Peg 2)
5. Alan Stephens (Alcester Sports) 2-12-4 (Peg 22)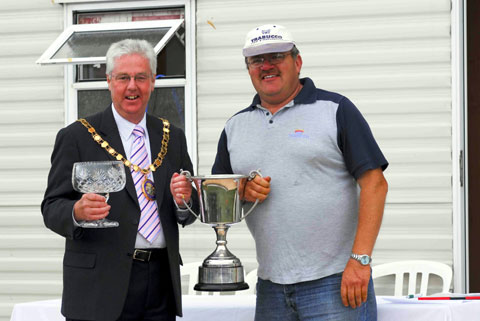 Wayne Swinscoe
Click on www.total-fishingclub.com – the UK's No1 online match fishing club – to win a trip to the world match fishing championships, and save money off tackle