It was tough going for the carp anglers during the inaugural "Match" between the two disciplines of the sport at the usually prolific West Midlands venue Barston lakes. High pressure conditions, a lack of wind, and frosts before the event meant that the carp proved hard to catch as the matchmen romped home to victory taking both the individual and the team titles by a considerable distance.
The matchmen took an early lead in the 8 hour competition weighing in 37.09 in the first hour against the carp anglers 12oz (one F1 carp). Match bags were made up of F1s, bream and the odd tench, and as the competition wore on it was clear that the bigger carp which were the main target for the carp anglers, would be hard to catch. Indeed by the half way stage only 2 carp over double figures had been caught across the whole field, both coming to carpers. Meanwhile the match anglers were switching between pole and feeder tactics to amass 165.02, mainly bream, against the carp lads 56.09 of just carp.
The squads were selected from some of the top match and carp lads in the country, with both teams being taken out of their comfort zone. The match lads usually only fish for 5 hours but needed to be "on the ball" for 8 hours, and the carp lads were restricted to 1 rod and carp only in what what prove to be a real sprint for them.
Event organiser and Carp team manager Rob Hughes said "It was a great atmosphere between the two disciplines and the carp lads knew they were up against it, especially with the carp behaving as they were. We had a lot of spectators down and I know everyone enjoyed the event and in the end the match anglers showed what a class act they were".
As the event wore on the match anglers stretched their lead winning 7 out of the 8 hourly weigh in's, although there was a little concern amongst the ranks as their weights dropped off just after the 5 hour mark and the carpers started catching more F1s and another double figured mirror..
In the end though it was the match anglers that reigned supreme amassing a team total of 308.12 between them against the carp anglers 156.11. Individually it was match ace Jamie Masson that took the individual title with an impressive 75.01.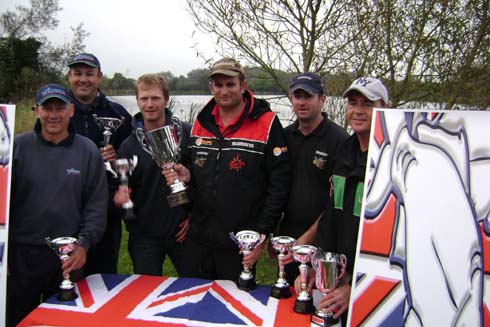 The winning match angling team from the left, Steve Hemingray, Paul Yates, Rob Wootton, Steve and Phil Ringer and Jamie Masson, who saw off the big fish men at Barston Lakes in the carp anglers versus match anglers challenge.
Results
Name Team Peg Weight
Jamie Masson Match 9 75.01
Phil Ringer Match 5 59.13
Paul Yates Match 11 55.07
Mark Bartlett Carp 4 48.12
Steve Ringer Match 7 48.03
Steve Hemingray Match 1 39.14
Billy Flowers Carp 6 33.01
Rob Wooton Match 3 30.06
Kev Reynolds Carp 2 30.03
Jamie Londors Carp 8 27.01
Ryan Need Carp 12 17.10
Tom Colloff Carp 10 0.00
Results By Team
Name 10.00 11.00 12.00 1.00 2.00 3.00 4.00 5.00 Total
Kev Reynolds 0 0 5.02 0 5.08 5.03 8.04 6.02 30.03
Mark Bartlett .12 4.11 5.11 5.04 12.02 6.05 3.00 10.15 48.12
Billy Flowers 0 14.00 1.13 2.04 0 6.13 6.14 1.05 33.01
Jamie Londors 0 0.12 0 2.00 5.04 17.12 0 1.05 27.01
Tom Collof 0 0 0 0 0 0 0 0 0
Ryan Need 0 0 14.05 0 3.05 0 0 0 17.10
HOURLY .12 19.07 26.15 9.08 26.03 36.01 18.02 19.11 156.11
TOTAL 20.03 47.01 56.09 82.12 118.13 136.15 156.11
Steve Hemingray 2.00 2.12 8.04 4.00 1.04 4.08 6.10 10.08 39.14
Rob Wooton 2.13 3.09 7.06 3.08 5.14 4.03 0 3.01 30.06
Phil Ringer 12.13 5.05 5.00 12.10 6.05 3.01 8.04 6.07 59.13
Steve Ringer 7.15 2.08 3.05 10.00 4.10 5.08 3.08 10.13 48.03
Jamie Masson 6.01 12.07 5.00 10.05 19.04 6.00 7.02 8.14 75.01
Paul Yates 5.15 9.06 9.14 12.06 5.09 0 5.09 6.12 55.07
HOURLY 37.09 35.15 38.13 52.13 42.14 23.04 31.01 46.07 308.12
MATCH 73.08 112.05 165.02 208.00 231.04 262.05 308.12