Some imitation baits look the part, but are next to useless at catching clever fish because they are too buoyant or too heavy.
With Anchor Tackle's 'Carp Logic' fake baits, you can be assured that plenty of research has gone into studying the density of the bait so that once you have a hook attached, it behaves as naturally as the real thing and is therefore far less likely to be rejected by a feeding fish.
There are Mimiks Casters, Worms, Corn and Pellets in the range, and these, the Mimiks Mixers.
They are particularly soft and rubbery to the touch and you can easily slide a strongish hook or baiting needle through them, so they can be side hooked or hair rigged.
You get five imitation mixers in a pack for £1.99.
A friend of mine Neil Sarker has been testing the range this summer and has been raving about them.
Still to be released from Anchor are Coarse Pellets, Softy Critical Corn, Floating Corn, Maize, Breadpunch and Hemp….
Geepster
Fact File
Product: Mimiks Mixers
Quantity: Five in a pack
Price: £1.99 per pack
Contact: sales@anchortackle.com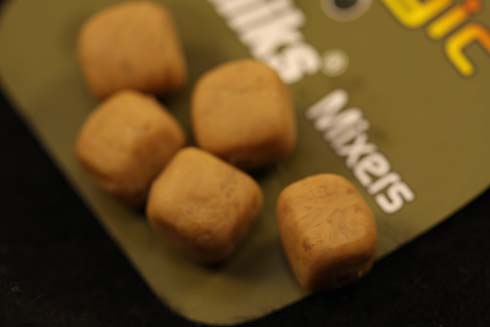 Carp Logic Mimiks are soft to the touch and can be hair rigged or side-hooked.