2010 Match Fishing Team Championship
14 teams of five (70 pegs)
The Warwickshire Avon had dropped still further for the 2010 Match Fishing Team Championship and was only around six inches on when the match got underway.
The Maver Bait Tech team comprising Wayne Swinscoe, Gary Miller, Chris Vandervleit, Dean Barlow and Chris Jenkinson made very few mistakes and finished seven points clear of its nearest challenger, finishing on 59 points.
Second place, with 52 points, went to Leicester based Quorn VDE, a five man team which included Milan based Milo Columbo and Surrey based Darren Davies. Third was Maver Barnsley with 50 points ahead of National champions Kamasan Starlets on 47 and Saints on 45.
Individually, Shakespeare's Michael Buchwalder improved on his runner up spot last year by taking top position this time round with 14-7-0 of roach on bloodworm from downstream end peg 80. Dean Barlow made good use of the top upstream end peg and finished with 14-3-0, a catch which included a 4lb tench as well as some quality roach and third place went to Bob Bates of Mark One Sensas who included a big barbel in his 13-3-0 total.

2010 Match Fishing Team Championship Results
TEAMS POINTS
1st Maver Bait Tech (£3,000) 59
2nd Quorn VDE (£1,500) 52
3rd Maver Barnsley (£1,000) 50
4th Kamasan Starlets 47
5th Saints 45
6th Shakespeare Mach 3 43
7th= Daiwa Dorking 42
7th= Shakespeare Superteam 42
9th Daiwa Gordon League 36
10th Leicester Sensas 31
11th Sensas Mark One 27
12th Preston Innovations Delcac 21
13th Drennan Oxford 17
14th Fox Match Trentmen 13
INDIVIDUALS
Top three
1st Michael Buchwalder (Shakespeare) 14-7-0 (80) £750
2nd Dean Barlow (Maver Bait Tech) 14-3-0 (1) £500
3rd Bob Bates (Mark One Sensas) 13-3-0 (13) £250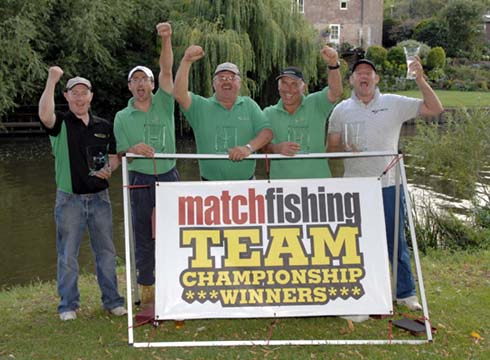 The Maver Bait Tech Team of Chris Jenkinson, Gary Miller, Wayne Swinscoe, Chris Vandervleit and Dean Barlow celebrates its impressive 2010 Match Fishing Team Championship win.
£150 section prizes
A – Ricky Hines (Saints) 10-7-0 (14)
B – Chris Jenkinson (Maver Bait Tech) 7-9-0 (16)
C – Hadrian Whittle (Kamasan Starlets) 11-9-0 (39)
D – Sam Wildsmith (Maver Barnsley) 10-11-0 (49)
E – Darren Davies (Quorn) 11-9-0 (68)
The Match Fishing TV cameras were at Evesham to capture all the festival action. Check out the exclusive action and interviews at: www.matchfishingmagazine.com