2010 Abu Garcia Wychavon Championship (70 pegs)
The river had dropped well for this match and many competitors felt that roach, which had been largely conspicuous by their absence on Day One might play a part.
Big fish were also likely to feature with the colour in the river and no one was surprised when it was announced over the tannoy that Steve Ashmore at Peg 30 had caught the bigger brother of the 11lb barbel he had landed from Peg 7 just 24 hours previously!
This one weighed 12-12-0 and boosted his catch to 16-15-0 for the match win he had most wanted to win for several years.
Steve had already won the Saturday final in 2000, when it was sponsored by John Smiths. He was also the individual winner of the team final in 1999 so it meant that he had now won finals on all three days of the festival, a feat only previously achieved by two other anglers, namely Dave Harrell and Colin Perry.
Second place, with a bag of bloodworm caught roach and skimmers weighing 13-5-0 from Peg 13 was the ever-consistent Sam Wildsmith ahead of Denis White with 12-8-0 of the same fish from Peg 10.
Ian Didcote finished with 12-0-0 of skimmers and bleak from Peg 63 and Hadrian Whittle with 8-15-0 of roach on bloodworm from Peg 79.

2010 Abu Garcia Wychavon Championship Result

Steve Ashmore (WB Clarke) 16-15-0 (Peg 30) £3,000
Sam Wildsmith (Maver Barnsley) 13-5-0 (Peg 13) £2,000
Denis White (Maver Barnsley) 12-8-0 (Peg 10) £1,000
Ian Didcote (Garbolino) 12-0-0 (Peg 63) £500
Hadrian Whittle (Kamasan Starlets) 8-15-0 (Peg 79) £250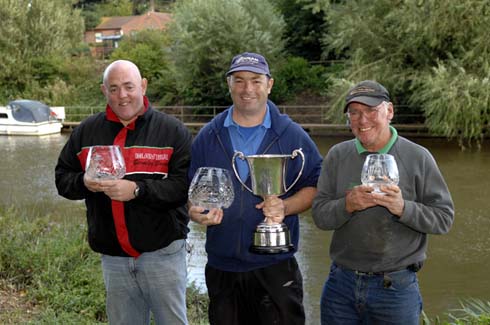 Sam Wildsmith (left), 2010 Abu Garcia Wychavon Championship winner Steve Ashmore (centre) and third placed Denis White.
£150 section winners
Brian Pollard 7-11-0 (Peg 11)
Keith Hobson 7-12-8 (Peg 12)
Danny Ashington 6-13-0 (Peg 22)
Mark Downes 7-2-0 (Peg 39)
Dave Harpin 6-13-0 (Peg 46)
Andrew Murphy 6-12-0 (Peg 60)
Richard Steele 5-8-8 (Peg 75)