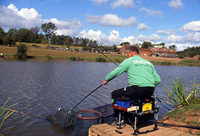 Maver's Phil Briscoe in action on the prolific Match Lake
Larford Lakes has firmly established itself as one of the top match, club and pleasure waters in the Midlands, with 100lb plus bags commonplace in the warmer months and with plenty of specimen fish including carp and barbel to attract the big fish angler as well.
The complex provides anglers with some of the best facilities in the country. This includes the new clubhouse, with its 80-seater cafe that offers a comprehensive menu (CLICK HERE FOR DETAILS ) including breakfasts, midday meals and afternoon snacks. This facility is also available for club bookings, functions and corporate days.
There are male and female toilets that are kept impeccably clean with disabled facilities as standard. Hot and cold running water plus standpipes are available for the overnight angler.
Other Facilities:
– Tailor made fishing platforms
– Tackle ferried to your swim
– Secure car parking protected by CCTV
– Pellets, groundbait and sweetcorn available at the fishery
Match Lake
Offers six acres of superb fishing with bite after bite from a variety of species. Every peg is capable of producing massive weights thanks to the high density stocking of mirror carp, common carp, hybrid F1s, roach, tench, bream, skimmers, chub, perch and rudd.
Pegs: 80
Species: Carp, tench, skimmers, bream, roach, rudd, tench, perch and hybrids
Depths: Burr Bank up to 7ft. Shallow Bank 2.5ft to 3ft
Match Record: 272lb
Best baits: Pellet, paste, sweetcorn
Top method: Pole
Specimen Lake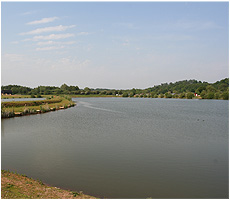 The Specimen Lake is a large expanse of water – and it's teeming with quality fish…
Twenty acres of prime angling and stocked with a variety of specimen sized fish including roach to 2lb 8oz, chub to 7lb, bream to 15lb, tench to 9lb and big perch and crucians. However, it's most famous for its huge carp with the fishery record standing at 38lb 8oz. All methods are successful with the waggler pole and feeder accounting for many of the bream and small carp. Boilies, particles and meat are the most successful baits for the specimen carp, and they also work well for the big bream and tench.
Pegs: 100
Species: Carp, tench, skimmers, bream, roach, rudd
Depths: Up to 15ft in the middle
Match Record: 253lb
Best baits: Worm, caster, sweetcorn and paste
Top method: Pole and swimfeeder
Arena Pool
The float-only Arena Pool opened in April 2005. Large stocks of common and mirror carp have been introduced along with bream, skimmers, roach, rudd, tench and perch. The Arena promises to deliver big weights and one of its many attractions is the fact that it's float only.
Pegs: 40
Species: Carp, tench, skimmers, bream, roach, rudd, tench, perch and hybrids
Depths: Up to 12ft
Match Record: 170lb 8oz
Best baits: Maggot and pellet
Top method: Pole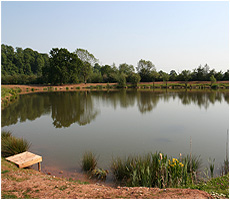 Larford's newest lake, float only Arene Pool already has a match record approaching 200lb…
Tactics: Match And Arena
When fishing the Match Lake and Arena pools, the most successful tactic is to pole fish at anything between two and 13 metres.
The most successful baits are soft 4mm and 6mm pellets. Feed pellets must be purchased from the fishery, available 7 days a week from the fishery shop. Hook pellets are your choice but sizes 4mm and 6mm are the most popular. Corn and meat also produce big bags and maggot works well on Arena pool. Also try the paste made up from the green Swim Stim – brilliant! Small in line Method feeder and dead red maggots can be very good on the Match Lake. The best float size on both Arena and Match Lake is 0.20gr to 0.5gr. Use 0.12mm or 14mm line with 14 or 16 barbless hooks. Expect weights of around 100-150lb in the summer and 50-70lb in the winter – guaranteed!
Tactics: Specimen Lake
A number of tactics that work well on this large, productive water. A medium sized groundbait feeder is always a banker fished with a three foot tail, size 16 hook and red maggot, worm, caster and sweetcorn the killer baits. A Method feeder fished inline also works very well with dead red maggots or sweetcorn hook bait. Be prepared to hook carp up to 30lb plus along with some bream going to 12lb and tench to 8lb.
When fishing the pole you need at least 1gr floats because of the depth and pull of the lake. Use 0.14mm main line with 0.12mm hook length to start with, but when the big bream and carp move in, you need rigs with at least 0.18mm or 20mm main line direct.
Large quantities of carp are caught between 3lb and 5lb at 3m on paste. Otherwise, fish at between 10m and 13m with chopped worm, maggot or corn. When fishing paste use up to a size 12 hook. In summer, ball in at the start with plenty of corn and caster in your mix. Loosefed fishery pellets also work well with soft hookers. In simple terms, feed heavily in the summer and lightly in the winter for best results.
Tactics: Specimen Carp (Speci Anglers only)
Fish PVA bags with plenty of free offerings. Spod heavily and put down a carpet of bait. Bait boats are allowed. Always make sure you have bait in the margins. Don't forget – barbless hooks and break-free rigs – no second chances at Larford!!
Summer baits: Fishmeal boilies work very well, as do big pellet baits like halibut.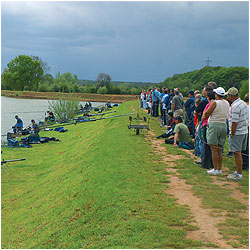 The Burr bank is perfect for spectating at one of the many big events held on the Match and Specimen Lakes.
Winter baits: Sweeter baits, fruit etc are most popular. Maize, corn and meat also produce good fish.
Venue File
Larford Lakes, near Stourport, Worcs
Contact: 01299 829373 or 07774 703067
Website: wwww.larfordlakes.co.uk
Accommodation: There's plenty of angler-friendly accommodation in the area – CLICK HERE  for more details
Day tickets: £7 per rod per day; juniors and OAPs £5 per rod per day. For those wishing to use more than one rod or night fish, enquire at the fishery for latest prices
Match results: For a rundown of some of the important match results from Larford Lakes CLICK HERE
Restrictions (lakes): All competitors must use two keepnets and split the catch equally.
All nets used for retaining carp must be of carp-friendly sack mesh.  (Nets can be hired at £5.00 per session).  Anyone not in possession of carp-friendly nets will not be allowed to fish, and ideally, nets should carry the Angling Foundation's Waterlily logo for maximum fish-friendly protection.
Fish to be weighed bringing bottom ring through keepnet only.  Our fishery staff weighs all matches.
All carp must be netted.  No swinging in of fish at any time.  Landing nets must be of a fish-friendly material ideally polyester and, if possible featuring the Waterlily logo.
Strictly barbless hooks only.  Hook checks will be made during competitions.  Anyone found to be using barbed hooks will be asked to leave the site.  Maximum hook size 10.
Ground bait on Match Lake to be fed by pole cup or feeder only or what can be squeezed in one hand only.  Arena Lake as above but no feeder fishing.
Pellets:  Maximum 4 bags per angler.  All feed pellets must be purchased from the fishery.
All landing nets and keepnets must be dipped before entry to the Lake bank.
Elasticated method feeders, in line or conventional feeders allowed (but not on Arena Lake).
No cat food, dog meat, bloodworm or joker or macaroni cheese on ALL lakes.
No floating hook or feed baits on any of the lakes.
No floating poles.
Fishing from the banks or stages only – NO wading or placing platforms in the water unless agreed with the fishery management.
No bait to be thrown on the banks at the finish of a competition.
All litter including cigarette ends to be cleared from the peg on completion.  Failure to do so will result in a ban. No pole tapping or cupping water.
All pole rigs must have a fixed float 6" minimum from pole tip or longer.
Hook length from the nose of the method feeder to the hook must be a minimum of 4" (Strictly NO braided hook lengths).
No feeder floats allowed.
Boilies will be allowed in matches.
No PVA bags (tea bags)
Arena Lake – float only
No artificial baits including plastic sweetcorn.
No feeding by pole cup whilst fishing with a rod already cast into the Lakes.  NFA rules apply.
Maximum ground bait allowance in any match to be no more than 5kg dry mix.
Fishing from 7am until dusk in winter and from 7am to 8pm during summer; night fishing by prior special arrangement only.
Bait restrictions: No tiger nuts, peanuts or other nut baits; no bloodworm or joker; no macaroni cheese; no catfood feed; ALL FEED PELLETS MUST BE PURCHASED FROM FISHERY – hook pellets are of your own choice
How to get there: From Stourport, follow the main road (A451) over the river bridge, heading towards Worcester. Approximately 1/2 mile after the river bridge, take the left-hand fork, signposted Worcester and Astley Cross (B4196). Follow the road through the village of Astley Cross. After approximately 1/2 mile, take the left-hand turning, signposted LARFORD. Follow the country lane for about one mile and Larford Lakes and River Complex is directly at the end of the lane to your left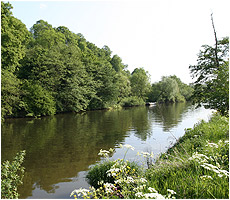 The dreamy stretch of the Severn is home to plenty of roach, chub and some quality barbel too.
River Severn
There are also 80 prime river swims available within the Severn Sports & Leisure Complex. Large bags of barbel, chub, bream, dace, roach and gudgeon are common with the odd specimen sized carp showing on the lower beats. Feeder, waggler and stick float tactics all work and summer catches average an impressive 30lb to 50lb. The resident barbel average between 6lb and 8lb but fish to 12lb have been recorded.
Pegs: 80
Species: Bream, chub, barbel, roach, gudgeon and bleak
Depths: Between 4ft and 10ft
Match Record: 80lb
Best baits: Maggot, caster and meat
Top method: Waggler, stick float and feeder
River Rules
Pleasure anglers must dip their nets if transferring from the river to a lake, and all anglers must confirm the transfer with the fishery manager; fishing from 7am until dusk in winter; fishing from 7am to 8pm during summer; only one rod to be used during matches; maximum of two rods during pleasure sessions; transfer of fish from river to lake, or vice versa, is strictly forbidden; all litter must be taken home; trout or salmon to be returned immediately and never held in keepnets; car parking in designated areas only; NO BAIT RESTRICTIONS
---