A strong turnout made its way northwards for the sixth round of the AT/CRT Canal Pairs on the awesome Shropshire Union at Shebdon. Fine conditions met the hopeful pairs at the draw and with a few fish coming out in the run up to the match, decent weights were expected and delivered across both the sections.
Stand out performers on the day were local pairing of Paul Murrin and Dave McCall who finished first and second in their respective sections. Paul managed a cracking bag of bream from peg A19, winning A section and 33 points. Backing him up superbly was Dave McCall who managed a section second and 32 points from peg B2.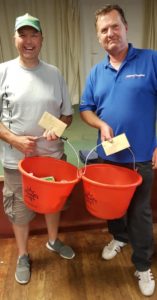 The second qualifying pair was Mike Marsden and Adam Carter who both placed well up their sections in fourth and seventh place respectively. Mike had a great draw on A section peg one and made no mistake landing just over 9lbs in the five hours, for a well earnt 32 points. Adam Carter also put together a great performance from peg B5 netting 7lb of mainly silvers.
Rounding out the top three were Ben Sharratt and Jason Cunningham. Jason put caught 11lb 14oz 8 drms from peg B10 and his partner Ben took his mini section with 5lb 14oz and eighth in section. This gave the pair 57 points and the third qualifying spot.
Fourth qualifiers on the day were Martin Lenihan and Jimmy Byrne on 53 points and the final qualifying pair were Richard Guest and Dave Lloyd with 48 points.
The Angling Trust would like to thank Terry Nutt and Dave Watkins for running another excellent qualifier. If you want to get involved in some of this fantastic canal action, all the remaining qualifiers and tickets are available through our booking system.
Results
1. Paul Murrin & Dave McCall 65 points
2. Mike Marsden & Adam Carter 59 points
3. Ben Sharrett & Jason Cunningham 57 points
4. Martin Lenihan & Jimmy Byrne 53 points
5. Bernie Leatherbarrow & Alan Round 48 points