Springwood Fisheries has a brand new website which will keep anglers bang up to date with what's going on at the popular Derbyshire day ticket water.
To be found at www.springwoodfisheries.com , the site has been designed to be more interactive for visitors, with weekly match results instantly viewable on the front page.
An online match booking section has been added, as has an enquiry form for the caravan site, which allows the visitor to make an enquiry there and then, even outside our office hours – saving them time and money.
This is already proving very popular, with several enquiries via this method within days of it going live.
The site still has lots more features to come – with a forum to added, and another gallery for users to submit their pictures and fishing reports too.
A box will also be added for anglers to submit their email address so that they can receive a monthly newsletter.
The newsletter will deliver the best of that month's match and pleasure results straight into their inbox. There will also be regular special offers and competitions available to these subscribers through the newsletter.
Springwood Fisheries' match results are also viewable on top match angling website Total-Fishing.com, both on the Coarse Forum and at www.total-fishing.com/fisheries.aspx .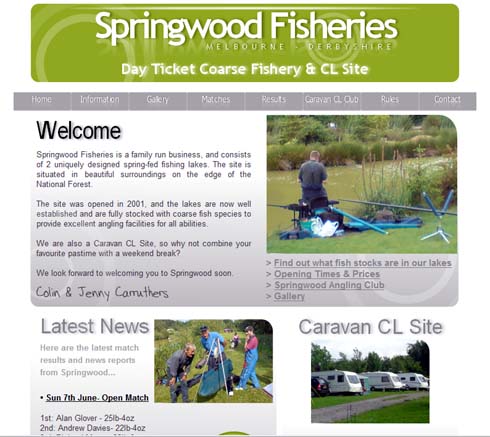 Springwood Fisheries, Ashby Road, Melbourne, Derbyshire, DE73 8BJ
Website: www.springwoodfisheries.com
Email: springwoodfisheries@msn.com
Tel: 01322 864331
Click on www.total-fishingclub.com – the UK's No1 online match fishing club – to win a trip to the world match fishing championships, and save money off tackle
---