Partners from Thames Water, Twyford and District Fishing Club, Angling Trust, Environment Agency and Wokingham Council Countryside Service met last week to celebrate the completion of the first phase of a £65,000 programme of enhancements to the River Loddon and the St Patrick's Stream near Reading.
The River Loddon in Berkshire has traditionally suffered from poor fish recruitment after extensive dredging had deepened, widened and straightened the waterway. This created an unnaturally wide and deep channel producing very slow summer flows and choking the river bed gravel with silty deposits.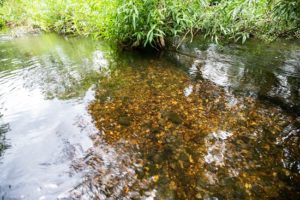 The Loddon is famous for producing specimen sized barbel and chub but these fish will only spawn on clean gravel. In recent years there has been very low survival of juvenile fish which threatened the long-term future of the fishery. Other problems were caused by the wash out of fry in the winter floods and in some areas the tree canopy was too heavy resulting in low light penetration and weak weed growth. Healthy weed beds create important habitat for invertebrates and fish.
Twyford & District FC contacted Martin Salter at the Angling Trust who organised site visits with the Environment Agency and local council and approached Thames Water to fund a river restoration scheme in an area that was once known as a productive spawning area.
The project was delivered by Cain Bio-Engineering and supported financially by a grant from Thames Water's Community Investment Fund. It involved felling a number of bankside trees and cutting branches to create Large Woody Debris flow deflectors to help re-establish the natural meander sequence of the river and increase the flow velocity.
The tree felling allows in more light to promote healthy weed growth. Some 80 tonnes of 'as dug' gravel was introduced selectively into the river to create fast flowing shallow riffles which are ideal spawning beds for fish species, such as dace, chub and barbel. The final work saw the Redlands sidestream dug out to provide shelter for young fish from high flows in flood conditions.
Stuart Spindler, Secretary of Twyford & District FC said:
"We are delighted with the support we have received from Thames Water in particular and from the other partners who have worked with us to improve our stretch of the River Loddon. This beautiful little river was getting choked with silt and the fish were struggling to reproduce in sufficient numbers. We've already seen shoals of chub on the new gravels and we hope that these works will give the fishery a brighter future as well as delivering better long term sport for our members."
Martin Salter from the Angling Trust added:
"I fish the Loddon myself and it has had more than its share of man-made problems. Restoring rivers to a more natural state improves the whole ecosystem. Faster flows mean cleaner gravels and better fish spawning habitat while a wider variety of water weeds supports more insect and invertebrate life, from freshwater shrimps to dragonflies. This provides natural food for what we hope will be substantially increased fish populations."
Rosemary Waugh, Thames Water corporate responsibility manager said:
"We look for opportunities to work in partnership with local communities and support activity that will improve their local environment, through providing funding and advice. Working with Twyford and District Fishing Club, the Angling Trust, Environment Agency and Wokingham Council these enhancements to the River Loddon have been delivered and will provide great habitat for nature to thrive."
Twyford & District Fishing Club – Restoration schemes for River Loddon and St Patrick's Stream
Objective: To enhance the habitat for fish and wildlife, increase biodiversity and improve the general public's understanding of the ecosystem of the River Loddon at Woodley and Charvil, Berkshire.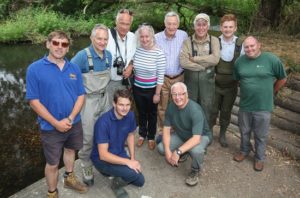 Elements of the project:
1) Introduce large gravel to extend the spawning beds for gravel-spawning fish, particularly barbel and chub, and clear and de-silt the ditch and form a backwater refuge for young small fish in the times of high main river flow in the River Loddon at Sandford Mill
2) Install woody debris at Heron's Reach on the lower Loddon to restore damaged habitat.
3) Extract gravel from land adjacent to the St Patrick's Stream to form a backwater refuge for young small fish in the times of high main river flow, and use the gravel extracted to construct riffles to reintroduce fish spawning areas.
4) Design and install two interpretation boards adjacent to Public Footpaths, to inform walkers and general public about the rich biodiversity of the River Loddon in the Woodley/Charvil area.
Total contributions:
Thames Water £38,400
Wild Trout Trust £5,000
EA Fisheries Improvement Fund £10,000
Barbel Society £2,000
TDFC reserves £10,000
Main Pic: Martin Salter with Stuart Spindler displaying some of the 80 tonnes of gravel