Dynamite Baits Tinned Meaty Marine Pellet
Smells of: Meat and pellets
Colour: Brown
Texture: Low binding soft mix
Mix with: Grated luncheon meat or brown crumb
Breakdown time: Very quick when used on its own
Price: £3.99 per 900g tin
Comment: A fantastic idea and a great product. Very easy to use and has endless options
---
Sensas Crazy Bait Gold
Smells of: Fishmeal and meat
Colour: Green/brown
Texture: Medium
Mix with: Meat or brown crumb
Breakdown time: Depends on mixing
Price: £3.99 per 1kg bag
Comment: One of the most popular commercial water groundbaits of the moment. This makes a fantastic paste – give it a try
---
Sensas Crazy Bait Paste
Smells of: Tutti Frutti, Carp Pellet, Strawberry, Tandoori and Prawn & Shrimp
Colour: Varies
Texture: Soft
Mix with: Use straight from the tub
Breakdown time: Slow
Price: £1.99 per tub
Comment: Great texture and perfect for those of you who don't do a lot of paste fishing because it's very easy to use. Keeps well so it's always useful to carry a tub for those occasions when you might just need some
---
Van den Eynde Super Paste (Ready-mixed)
Smells of: Strawberry, Cheese, Pellet, Tutti-Frutti
Colour: Varies
Texture: Soft
Mix with: Use straight from the tub
Breakdown time: Slow
Price: £1.99 per 150g tub
Comment: Great paste that's ready prepared. Gives you a good idea of what paste should be like if you've never used it before. A great fish catcher that's dead simple to use
---
Sensas Crazy Bait Perfect Paste Powder (Supersoft and Superstrength)
Smells of: Fishmeal
Colour: Brown
Texture: Fine
Mix with: Water or any liquid additive
Breakdown time: Depends on mixing
Price: £2.55 per tub
Comment: This paste comes in Superstrength and Supersoft to allow you to tailor paste to any situation and has a strong fishmeal smel
---
Standard Ground Trout Pellets
Smells of: Pellets
Colour: Dark or light brown depending on oil content
Texture: Fine
Mix with: Best used neat
Breakdown time: Depends on mixing
Price: Varies, but around £1 per kg
Comment: The ultimate in simple pastes. Just mix some powder with water and you're away. Cheap yet very effective
---
Van den Eynde Hydro Paste
Smells of: Fishmeal, Strawberry, Black Squid
Colour: Brown, red and black
Texture: Fine
Mix with: Water
Breakdown time: Depends on mixing
Price: £2.49 per 150g bag
Comment: This mix contains gluten, which turns the paste very stringy once wetted. Stays on the hook brilliantly and certainly catches a lot of fish
---
Hinders Slicker Paste
Smells of: Pellets and oil
Colour: Dark brown
Texture: Soft
Mix with: Oil supplied
Breakdown time: Very slow
Price: £4.95 per pot
Comments: This is what the 'bivvy boys' use, so you know it's right. Hinders are one of the biggest bait suppliers to the carp world and take it from us, this is pukka stuff
---
Mosella Manic Impact
Smells of: Pellets
Colour: Dark brown
Texture: Quite firm
Mix with: Use on its own or water to make it softer
Breakdown time: Slow
Price: £2.99 per 100g tub
Comment: This bait actually comes in prepared pellet form, but all you need to do is squeeze a few together to make a ball of paste. The warmth from your hand makes it very simple to do and will give you a very even, textured paste
---
Miracle Baits Paste
Smells of: Fishmeal/sweet
Colour: Light brown
Texture: Fine
Mix with: Water or any additive of your choice
Breakdown time: Slow because of the stringy texture
Price: £1.99 per 150g bag
Comments: This is the paste British record holder Steve Gregory used to break the five-hour match record – nuff said!
---
Richworth Ready-Paste
Smells of: Tutti Frutti, Strawberry, Blue Cheese, Trout Pellet, Multi-Plex, Bio-Plex, Crab&Mussel
Colour: Varies
Texture: Medium/soft
Mix with: Ready to use
Breakdown time: Slow
Price: £2.20 per tub
Comments: Another paste from the big carp world. Richworth use only the best ingredients in their baits and this paste's no exception. Comes in a variety of flavour and you can use it straight from the tub
---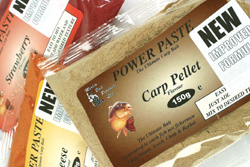 Merlin Baits Paste.
Merlin Baits Paste Smells of: Carp Pellet, Cheese, Strawberry
Colour: Brown, yellow and red
Texture: Fine
Mix with: Water
Breakdown time: Slow
Price: £1.99 per 150g bag
Comments: Very easy to mix and carefully blended. A very successful bait that has been around for a while. Three flavours give you plenty of options when the fish are cagey or have seen standard pastes time and time again

---