Your chance to claim up to £100 cash back on Pentax SLR Camera
The NFA and PENTAX U.K. are delighted to announce Richard Bowler as the overall winner of their Angling Photography competition and recipient of a top-of-the-range K10D PENTAX Digital SLR Camera.
Richard Bowler's picture of a mayfly was the first monthly winner of the competition back in June and proved to be the best overall, from the monthly competition heats.
Competition judge and professional wildlife photographer, Tony Wharton, who chose Richard's mayfly as the top picture commented, "Richard Bowler's excellent shot of a Mayfly is by far the best image of the competition. It's an excellent close-up shot by any standard, requiring the most demanding of photographic techniques. It is bitingly sharp, with a perfect image, size and depth of field, while the background is commendably diffused with no distractions. What's more, the subject is regularly to be seen by anglers at the water's edge and is of direct relevance to the sport of fishing."
Those wishing to review the entries can visit the website at www.nfadirect.com/pentax where all the angling images we have received are on display. The gallery will remain online, so that anglers can continue to get inspiration to pack their camera with their tackle, and emulate some of the pictures we have received over the competition period.
Following the conclusion of the photography competition, PENTAX U.K. is now offering anglers up to £100 off a brand new PENTAX K20D Digital SLR or £50 off a PENTAX, lens. To take advantage of the offer, anglers must visit the NFA website, www.nfadirect.com and download the information pack which includes a list of participating retailers and details on how to claim your cash back.
Tom Goldspink, Marketing & Communications Manager at the NFA commented, "The sheer volume and quality of entries that we have received for this competition just goes to show how many anglers enjoy taking pictures when they are on the bank. Our thanks must go to the Division One National sponsor, PENTAX and Tony Wharton, who have kindly donated the prizes and helped anglers with their top tips and advice".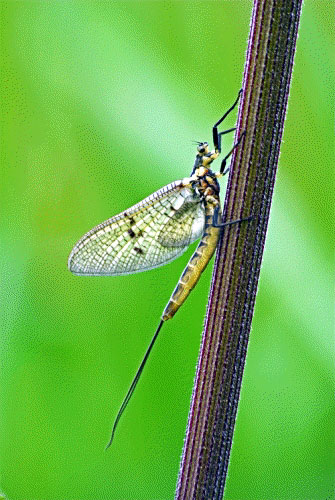 Richard Bowler's picture of a mayfly