Fishing is at times a solitary pursuit, but can also be great fun with a friend, as Berryhill High School students Thomas Smith (age 11) and Nathan Royall (age 12) demonstrated, when the duo enjoyed a memorable day of pike fishing at Fenton and Districts Dilhorne Pools.
Thomas a Peer coach with Get Hooked on Fishing, had asked Nathan to accompany him on a fishing trip, and watch him fishing in order to give Nathan an insight into pike fishing.
Nathan watched in awe as Tom proceeded to bank 4 fish in just two hours.
The first fish of 7lb arrived within 15 minutes of Tom casting the deadbait into the water; this was followed 20 minutes later by a fish that threw the hook after a short fight. V
irtually an hour after starting Tom had his third run and hit into a pike of 8lb, and as he was playing the fish his second rod picked a run up.
Tom had to ask his dad Dave (who had been sitting with Nathan watching Tom fish) to hit the fish and once the fish was on Dave asked Nathan to hold the rod while he netted the first fish.
This done, he netted the second fish of 5lb and lifted both fish to the unhooking mat. Once both fish were unhooked and returned to the water safely Tom and Dave rebaited and cast the baits out again.
Dave and Nathan returned to their seats up the bank and Tom stayed on duty by his rods. Around 40 minutes later Tom's patients was rewarded when a fine fish of 16lb picked up his bait. Tom hit the fish and held on as she surged away.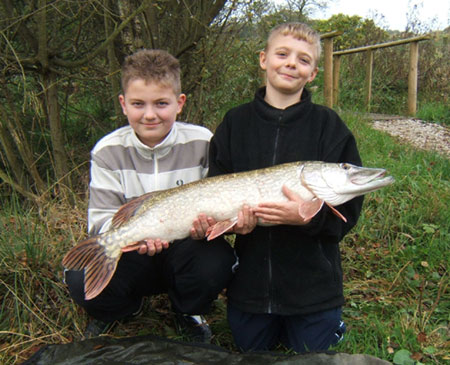 Nathan and Tom with their best fish of the trip, a fine 16-pounder.
Slowly Tom got the line back on the reel and after a few short surges, he the fish heading towards the bank. Dave slipped the net under the fish and lifted it to the mat. Having unhooked the fish, both boys posed for a picture with the fish and then returned it to the water.
Nathan said: "It was really good watching Tom catch all the fish, and I even got to have a little go myself when the two fish were on at the same time. The last fish was huge and I honestly can't wait for Dave to take us again. Dave has promised to coach me on one of the Get Hooked on Fishing venues and that means that I can actually have a go at fishing on my own."
Continuing the theme of fishing with a friend, Dave who coordinates the Get Hooked on Fishing Border scheme, is planning to travel north to pike fish with carp anglers Danny Shoulder and his friend Brian, who met up with Dave during a holiday in Spain earlier in the year. Hopefully the trio will emulate the success of the boys.