The Blythe at Maxstoke Lane – who would think Birmingham city centre is only 15 minutes away?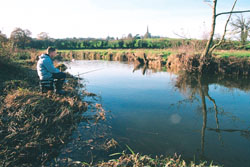 AFTER meandering through the southeastern fringes of Birmingham, the River Blythe eventually flows under the A452 just south of Stonebridge roundabout, where it enters the Packington Somers Fishery.
Better known for its stillwaters, the venue's stretch of river is somewhat neglected by anglers but offers classic small-river fishing with a cocktail of smooth glides, deep holes, shallow runs and various fish-holding features to target.
The river here is lined with ageing willow trees, most with storm-battered branches reaching into the river, and this restricts the number of areas where you can fish along the three-quarters of a mile stretch.
My own visit, just before Christmas, saw me stumble across two stealthy chub anglers in the shape of father-and-son team John and Mark Mole from Acocks Green in Birmingham.
They were hidden in a jungle of fallen boughs, which were hardly easy to fish but created a textbook haven for their target species. They informed me that, while waiting for a bite, they had spotted several large perch, one of which they estimated at between 2lb 8oz and 3lb. However, the pair had forgotten to bring spinners and worms with them, so the perch went about their business.
Having baited up a few likely looking areas both up and downstream from where I found them, they were fishing each in turn.
All was fairly quiet until about 2pm, by which time dad John had moved to one of the upstream swims, then it was as if someone flicked a switch, and the fish could not get enough of his legered luncheon meat offerings. In a short spell John went on to land five chub from 2lb 8oz to 5lb, and also lost a handful in snags to straightened hooks, despite fishing size 12s.
I went back to see how Mark was doing and found he'd switched to maggot and was now catching roach. After the session both anglers vowed they would be back, but next time with heavier gear.
Maxstoke Lane

Another area of the Blythe that is well worth a look is the
Maxstoke Lane
stretch at Coleshill, some six miles north of Packington. The river here winds gently downstream for over half a mile to the boundary at the B4116 Blythe Hall Bridge.
In fact if you stand on the footbridge, which serves as a gateway to the stretch, it's hard to believe that Coleshill town centre is only a quarter of a mile away, such is the peace and tranquillity.
Run by Coleshill and District AS, this offers varied small-river fishing for the intrepid angler.
There stretch holds quite a lot of carp, which are often lost by match anglers, with the best so far weighing 23lb.
The chub average 3lb and run to 5lb-plus, and the stretch is also on the up as a match water, one recent event being won with 20lb of roach and gudgeon.
Bailiff Ian Bagg told me that he and his son Alex enjoy excellent perch sport on the water. Using a small spinner, Alex has bagged perch to 2lb 8oz and has also caught chub to 5lb on the method. There are plenty of pike present, to around 17lb, and the venue also holds barbel, with fish to 10lb 3oz having been caught in 2004.
Stealth is paramount here and a silhouette against the skyline could easily ruin your swim when the water is clear. A mobile approach also pays dividends, fishing each baited swim for no more than 30 minutes.
Light tackle will produce more bites, but you have to tailor your gear as to whether or not the swim you're fishing is snaggy. Ian advises using a short, soft or through-actioned leger rod with a size 6 or 8 hook and meat or bread on the hook. He fishes simply, with a swan shot pinched onto the line perhaps a foot above the hook bait.
Above the footbridge is another stretch, which is sometimes borrowed by Coleshill and District AS for their bigger matches. Match weights are generally impressive, with 30lb-plus usually needed to win. Just prior to my visit, in fact, Johnny Johnson had won an event with 33lb of chub from 3lb 8oz to 4lb.
Match anglers fish as you would expect with maggot and caster the main lines of attack and meat, worm and bread as back-up baits. Opens are run throughout the season on Sundays, and your target weight is 20lb to get in the money.
Venue Fact File
River Blythe, Packington Somers and Coleshill, Birmingham
Contact: For Packington call the fishery on 01676 523833. For Maxstoke Lane contact Ian Bagg on 01675 464960
Tickets: Packington charges £4 a day (£3 concessions) until the end of the season. On the Coleshill stretch you can pay £2.50 by buying your ticket in advance from Cuttle Cottage or pay £3 on the bank
Restrictions: Packington rules include a ban on radios, dogs, barbed hooks, keepnets, fires, swimming, tiger nuts and peanuts, litter and unattended tackle. Neither venue is suitable for disabled anglers
How to get there: For Packington, take Junction 4 off the M6 and turn south onto the A446/A452. Go straight on at the Stonebridge roundabout, then at the next roundabout take the first exit onto the B4102 Meriden Lane. The fishery access is around 200 yards up this road on the left into Somers Road, which leads you through the barriers and to the fishery lodge. For Maxstoke Lane, take the same M6 junction and take the third exit (north) onto the A446. Take the right over the carriageway to Coleshill town centre and Maxstoke Laneis on the right, opposite Coleshill Hotel. Follow this road down the hill for a quarter of a mile to where the road bends and here you will see the white Cuttle Cottage where you can get the tickets. Ian lives at No1 Cuttle Cottage. Park on the verge – access is clearly signposted.