The River Itchen is recognised as one, if not the, best example of a classic chalkstream that there is in the UK or, in fact, the world. It is a small river of some 32 miles in length from top to bottom but within it lie some of the best fly fishing beats to be found anywhere.
From within its waters and along it banks, many of the doyens within the history of fly fishing have given us an insight into all that is best in fly fishing. It was at Abbots Barton where GEM Skues spent 56 seasons fishing for brown trout. It was his experiences and astute observations he made there which are now recorded in his many classic books, including his accounts on the evolution of nymph fishing as we know it today.
Frederick Halford, who is more associated with the neighbouring River Test, was the leading instigator of the dry-fly revolution and also leased fishing on the river downstream from Winchester.
The unique characteristics of the Itchen, along with astute management and river keeping, have been maintained and although the volumes of natural fly hatches are now not so intense as they were 30 years ago, dry-fly fishing is still the easiest method of catching trout. Wild trout and grayling still abound in the headwaters from Kingsworthy upstream and sensitive stocking programmes maintain quality dry-fly fishing for trout and grayling from Winchester downstream with two productive salmon beats above the tide in Southampton.
Access to quality dry-fly fishing is restricted and is usually organised by the respective owners. However, day ticket access to quality fishing can be obtained from The Rod Box tackle shop at Kingsworthy.
The traditional chalkstream dry-fly patterns still rule the roost on the waters of the Itchen. Size 18 and 20 of Medium Olive, Iron Blue, and Blue-Winged Olive duns, and spent patterns of these, along with some size 16 sedge flies, will be sufficient for most days on the river. Add to these, of course, a selection of Pheasant Tail Nymphs for when the trout are seen to be feeding just below the surface.
As wading is generally not allowed on most beats and with the water being gin clear, most fish can be spotted before one casts to them as they lie among the heavy tresses of swaying ranunculus weed. Astute and clever field craft and accurate casting is essential if any sport is to be expected.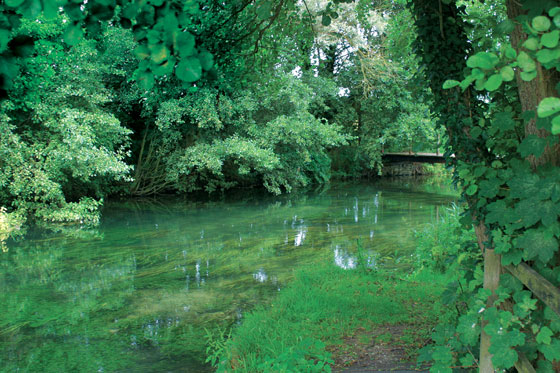 It's only just over 30 miles long, but some of the finest fly fishing anywhere is to be found on the Itchen.
Fact File

River Itchen
Location: Winchester, Hampshire
Contact (1): The Rod Box
Tel: 01962 883600
Web: www.rodbox.com
E-mail: therodbox@aol.com
Contact (2): Orvis
Tel: 01264 349519
Web: www.orvis.co.uk
---