The beautiful and meandering River Teme is a barbel angler's heaven. Who better to ask how to make the most of it than the river's top specialist, Martin Colloff? Total-Fishing.com caught up with him as the birds were clearing their throats on a misty morning down on the BAA-controlled water at Cotheridge.
Martin has caught more barbel than most from the llovely River Teme.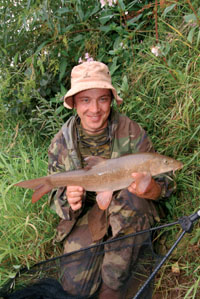 SO you want to catch a barbel on the Teme? Who can blame you? This really is one of the Midlands most inspiring rivers and when it comes to barbel fishing,  it's heart-stopping stuff on this water. Indeed, I call it a purist's river and venue, where you can often see the fish and draw them over an area to feed. Even getting them to take your bait can sometimes be quite straightforward.
But getting these muscle-bound speed machines out before they power through one of the river's ubiquitous snags is a different matter altogether.
I have fished the venue for a number of years now and have had more than my fair share of success.
In fact I've taken over 60 barbel from the water this season alone, topped by a fish of exactly 14lb, just two ounces off the river record. That cracking barbel really was a dream come true for me and regular readers may recall that it was pictured in Midland Angler in October's issue.
I was delighted when editor Gareth Purnell contacted me to see if I was interested in doing a feature. I'm not a secretive angler and am more than happy to tell everyone how I approach the Teme. The venue offers some of the best barbel fishing in the country and, as far as I'm concerned, the more Midlanders who get to enjoy it, the better.
However, before I start to go into my techniques, a word of warning. If you are not prepared to work damned hard for your fish, you may be disappointed.
What do I mean then by working hard? Well, first of all I believe that it is absolutely essential that you are mobile in your approach to the river.
That may deter some anglers, but in my experience you will always catch more barbel, more quickly, by moving along the river trying different spots, rather than remaining in one swim all day long.
Granted, you may catch a barbel from one swim, even several, but you will catch a lot more and learn a lot more by moving through various likely swims. What this approach really teaches you is all about where barbel prefer to live. Once you have located their hidey-holes, then they aren't all that difficult to actually tempt.
Locating barbel
During the summer and autumn months, fish location is fairly easy on the Teme and not just by fish spotting. During the daylight hours in these months, barbel will usually spend a lot of time hiding under obvious snags, like weed rafts, tree roots or any area that offers them some sanctuary.
Pay particular attention, for example, to deep runs, especially if they are near to streamier, well-oxygenated water. These spots can also be found right under the bank where the flow has undercut and eroded the bank. Barbel absolutely love these areas and will use them as patrol routes to find natural food.
My best advice is to spend a season of regular fishing on a stretch of the river and get to know all about it.
By trial and error you can learn where the fish lie up at various times, depending on conditions. There are no hard and fast rules, but the obvious fish-holding spots are clearly the ones to initially target.
However, it also has to be said that some of my best barbel have come from being adventurous and fishing spots on the river where few, if any, anglers' wellies have ever trodden. This is not a trait unique to the Teme either. On many shallower rivers, the biggest fish tend to lie up in the most unreachable spots and it's the intrepid angler who often reaps the richest rewards.
A word of warning, though. The banks of the Teme can be treacherous. They are mainly steep and can be ridiculously slippery after rain.
I never go to the river without a sturdy rope. Whenever you are unsure about going down to a new swim that you like the look of, then secure the rope to a tree and around your waist. Don't risk your life for a barbel!
Having issued that warning, I will say that if you are sensible then you can get to most spots on the Teme without too much risk.
In coloured water conditions it pays to use big, smelly baits.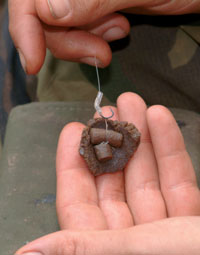 Travelling light
Okay, let's have a look at my tackle and rigs before we set off down the river in search of some fish.
I've picked a tricky day today. The river has been spot-on leading up to this shoot, but heavy rainstorms have raised the level and left it carrying a heavy colour. I am still confident of catching but it may not be quite so straightforward.
Tackle-wise, you must first of all make sure you have a good, solid reel that can take 10lb line in decent amounts and a feeder rod with enough backbone to safely pull fish from snaggy areas.
It should preferably have a through action and enough sensitivity in the tip section to detect bites well. There are loads of suitable rods on the market and reels to match. I find a free spool reel useful, as barbel can make a surging run on the bite when you may not be looking and, unless the spool is able to give line, this can result in crack-offs.
I like travelling light. I take a basic rod rest on a bankstick, a capacious landing net, a set of accurate scales, forceps for unhooking, an unhooking mat/weigh sling and an accessories box. There is also my bait of course, plus refreshments, but it all goes in a carryall.
I tend to sit on the bank but I do carry a very old, lightweight aluminium chair that I use when it's wet.
I like camou clothing, as I am always creeping around in undergrowth and I want to avoid spooking the barbel. That's not a problem today, though. With all this colour in the water, I can't see the fish and they can't see me.
Barbel rigs
My main line is usually 10lb breaking strain and it's rare for me to drop below 8lb on the Teme. You need all the strength you can muster in your tackle on some snag-ridden swims to bully the hard-scrapping barbel out.      
I prefer to keep things simple at the business end. I use a safe, bent-hook rig and semi-fixed lead using float stops up the line and am experimenting with neutral-buoyancy baits, but you'll catch plenty of fish with a straight free-running lead and knotless-knot hair rig.
Fluorocarbon hooklengths are the order of the day on bright, clear days with equally clear water (see Top Tip). I retain rigs on foam pads, ready tied.
Another sensible idea is to use a back lead a few feet above your lead to pin your line to the deck (see Top Tip).
The main point about rigs is that, when you fish for barbel, you must never fish with anything less than a 100 per cent 'pukka' rig. If there are any deficiencies these immensely strong fish will find them and there is no credit to be had from losing a barbel. If in doubt, tie up a new rig!
Barbel baits
Pellets and boilies are currently very successful on the Teme, in the same way they appear to be everywhere else at the moment it would seem.
However, they are far from the be-all and end-all in terms of baits for the hook. You will still catch on more conventional baits, especially spicy meat or lobworms if there's some colour in the water.
I like to make my own boilies from a Quality Baits' base mix, pulling a load of paste off before boiling and using that to wrap around pellets or boilies. The flavour leakage from fishing this paste is unbelievable. I prefer to make my own baits so that I can control the amount of time that I boil them for and dictate the consistency.
On the hook, I will have no hesitation in using artificial baits but I do like to dunk them in a glug, particularly liver-extract-based flavours, that I have found to be hugely effective.
Stringer rigs, that are PVA strings with several hook baits mounted onto them, can also be very useful, especially when the fish are not feeding aggressively in winter.
Today, in the coloured water, I will be using halibut pellets on the hook. Firstly, I take three small pellets, drop a dab of superglue on them and stick two of them together with the hair rig lodged in between. The third one is then added once the first two are secured together.
I then flatten a piece of pungent paste in my hand and proceed to mould it into a ball around the pellets (see picture sequence).
This is very visible and, more particularly, it immediately leaks scent that will soon be picked up by the ultra-sensitive whiskers of any barbel interested in feeding.
Baiting up
You will also catch chub like this three-pounder on your barbel baits.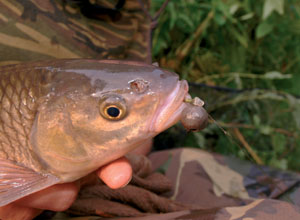 There are many ways to bait your swims, a classic technique being the bait-and-wait approach.
With this method, an area is primed over several hours, building up the swim with pellets, hemp or corn and then, some hours later, introducing a hook bait.
The theory here is that the smaller fish will eventually bring in the larger fish, which will assert dominance over time and, more than likely, be the first to take the hook bait when you finally introduce one.
This method, however, is not for me during the day here. In fact, the way I approach   the river's barbel uses a completely different strategy.
I like to cast the baited rig in before I do anything. Getting the bait in the water first and then scattering a little bait over the top works, because barbel often spook when you cast in the rig.
By using this method they  are moving over an area where the rig is already in position.
So as long as the line is pinned down, they won't spook and sooner or later will find the bait with the hook in it.
On the move
Okay, with rigs and baiting tactics explained, it's now time to have a wander down the river.
The first swim we come to is one that I have decided to bait up for later. I know it holds some big fish, one a well-known double. Hopefully, that fish may put in an appearance later.
Fishing rivers midweek, as I am today, does give you many more options. Most pleasure anglers won't walk much further than the 'car park' swims anyway, so a lot of the river is relatively underfished.
I will try all the well-worn swims I find, because they don't become well worn without reason.
However, I won't dawdle in them too long if they don't produce. My style of river fishing is all about tempting a fish quickly then moving on to the next swim.
Of course, there may be a shoal of barbel present and it can be enjoyable plundering a few fish from one swim. But ultimately I enjoy exploring the river and seeking out less-obvious spots that often produce quality barbel, simply because the wised-up specimens will avoid the pressured swims altogether.
Banker blanker
Prospects were not looking too promising after 25 minutes in my first swim. Normally it's a banker for a barbel almost immediately. Today, however, they were not in responsive mood.
You could stick it out all day in the one swim and at some point a resident barbel might feed, but my approach is to track down responsive fish and drop a bait right on their 'snouts'.
To cut the story of a long day short, I really struggled. The sudden rise in dirty water, after an extended period of low and clear conditions, had certainly dampened the barbels' appetites. I had one more spot to try after blanking in eight different spots! I slid gingerly down a dense bank of undergrowth to a spot where a deep slack on the inside might just hold a barbel.
I had these thoughts out loud to the cameraman, who had diligently and quietly tracked my every move since our dawn start. The look in his eyes suggested that he was growing impatient!
He remained at the top of the steep bank while I dropped a bait down the inside, no more than a rod length out, under an overhanging tree.
I sat there for about 10 minutes and tossed several pellets around the spot where my bait was lying.
At long last, a cracking bite materialised and I hooked into what felt like a good barbel, a fish I had to land to save the day. After a fairly frantic battle, to steer the fish clear of the potential snags, I netted a fish far smaller than it had first felt, but at around 5lb it was a sight for sore eyes.
I fished on, keeping to my regime of trying for up to half an hour to tempt a barbel from some likely and less likely looking lies but all to no avail.
A devilish thunderstorm then sprang up from nowhere and drenched the pair of us as we trudged back to the top end of the river to the first swim I had baited.
The rain cleared and I fished the swim using a stringer rig and managed a chub of 3lb. It had been a long day and the cameraman had to get home. Frustratingly, it was a pity he did not stick around, as I ended up with five fish to about 8lb as the light faded, the river level dropped and the water cleared up a bit. It's so often the case with big fish that you have to stay late to wait for them to feed.
I went to the same venue the day after this feature for a few hours with a friend and had four fish, two in excess of 9lb with the best going 9lb 7oz. I lost a couple as well and my friend ended up with 12 fish to 9lb 4oz.
If you haven't tried for a river barbel yet, then the Teme is a great venue on which to start. It's full of character and, more particularly, it's full of lovely barbel. Get out there and enjoy it!
Top Tip
I always use fluorocarbon lines on the Teme when the river is clear and conditions are bright. I use 10lb Shakespeare Farsight fluorocarbon or Gold Label No-Can-See. My advice is never to use a hooklength under 10lb on the Teme, as you will need to bully fish away from snags to get them in. When I am night fishing, or when the water is coloured, I switch to braid hooklengths, my preferred brand being Sufix Heavy Skin in 15lb.

Top Tip
Barbel will spook if they come into contact with your main line, especially when fishing close in or halfway across smallish rivers like the Teme. In fact, if you observe barbel, they will often hover over a baited area, trying to feel for line with their fins and barbules. If they feel line they will shoot off, taking their mates with them, and many hours spent drawing the fish into the area will have been wasted. I use a drilled bullet for back leading on the Teme.
Martin's Deadly Pellet And Paste Hook Bait
1 Select three pellets – look for a trio with particularly flat ends.
2 Superglue two of the pellets over the hair, as shown.
3 Hold the pellets together firmly to allow the glue to set.
4 Now glue the third pellet to one of the others.
5 A lump of Quality Baits paste is now wrapped around them.
6 Use enough paste to completely cover the pellets.
Barbel Bait
Halibut pellets work well on the Teme, but in coloured water Martin uses meat or worms on the hook. Stringers like these allow you to place boilies right next to the hook bait and are very good in winter. He has had a lot of success in recent weeks using these semi-buoyant halibut boilies which 'flutter' in the flow. Hook baits are glugged in a liver-extract-based dip that Martin has found to be hugely effective.
Top Tip
A lot of barbel anglers like to bait up areas and let them settle before casting in. I prefer to do it the other way around. This way there is no chance of spooking a feeding fish by casting a rig over it.
Martin's Barbel Tackle Tips
Martin uses a safe bent-hook hair-rig set-up. Hooks need to be strong in the gauge.
Martin's semi-fixed lead set-up. The shot slides off easily in the event of a main line break.
He only uses braid hooklengths in coloured water conditions or after the light has faded.
Several ready-tied rigs are kept on a foam board. If there is any weakness in your rig, barbel will find it.
Venue Fact File
River Teme, Cotheridge, Worcs
Contact: The Birmingham Anglers' Association on 0121 454 9111
Tickets: Can be fished by all BAA members or on a £4 day ticket. Books are available from the BAA headquarters at 106 Icknield Port Road, Rotton Park, Birmingham, B16 0AA. Adults £23, concessions £13
How to get there: From Worcester take the A44 Bromyard Road and go through the village of Cotheridge. Take the track at the sharp right-hand bend in road, cross the field and park on the riverbank by the footbridge
Nearby tackle shops: Go Fishing, Leominster, tel 01568 616047. Allsports and Hobbies, Stourbridge, tel 01384 395438
For hundreds more artices like this one, join www.total-fishingclub.com