Ivan Marks memorial match 2017
Date: 16th July 2017
Venue: River Witham Kirkstead
42 fished
The River Witham was hard going for many and the bream shoals were noticeable by their absence.
However, there were small fish in abundance for those looking for bites and several nets of 1-3lb of silverfish were banked.
The winner and no stranger to this stretch of the river was Lincoln's Roger Wakenshaw. Roger netted three bream and a small perch on the feeder to easily take the honours with 18lb 4oz.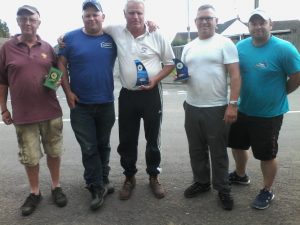 Paul Jennings in second place netted a single bream and a tench for 11lb 14oz
The trophy for this event, first set up by Total-Fishing.com's Gareth Purnell and now in the hands of John Middleton, presentation was made by Ivan's son Chris.

Result:
1/ Roger Wakenshaw Lincoln 18lb 4oz 3 Bream feeder worm & caster
2/ Paul Jennings 11lb 14oz 1 Bream & 1 Tench feeder
3/ Ian Brodie Wainfleet 6lb 3oz 1 Bream & silver fish
4/ Steve Reid 5lb 0oz 1 Tench Pole