As seasonal cold fronts move across the US, anglers from around the world travel to coastal Louisiana to target the numerous red drum (Sciaenops ocellatus) that congregate on the inshore flats.
On October 24th, angler Christine M. Helms of the Florida Keys landed a 11.11 kg (24 lb 8 oz) redfish while fishing with her husband Capt. Brian Helms out of Grand Isle, Louisiana. Helms needed 30 minutes to land the potential women's 2 kg (4 lb) tippet class record, after it ate the glitterbug fly she was casting. The fish was released alive after being properly documented, and is one pound heavier than the current IGFA record.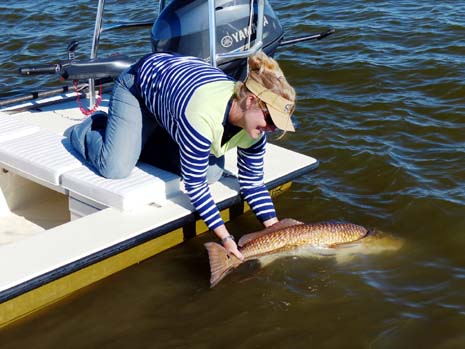 Angler Doug Borries of Ocean Springs, Mississippi, USA, bested an enormous 12.05 kg (26 lb 9 oz) red snapper (Lutjanus campechanus) on fly while casting a Puglisi squid pattern on October 13th with Capt. Robert McDaniel. Once hooked up, Borries needed 15 minutes to pull the fish from the northern Gulf of Mexico. If approved, Borries' fish would easily become the men's 8 kg (16 lb) tippet class record and the heaviest red snapper caught on fly rod ever submitted to the IGFA. The current IGFA record is 7.43 kg (12 lb 6 oz).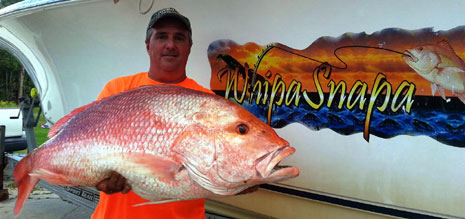 Aussie angler Candace Williams landed the potential new women's 3 kg (6 lb) line class record golden trevally (Gnathanodon speciosus) while fishing out of Dampier, Australia on September 12th. Williams needed 35 minutes to subdue the 9.22 kg (20 lb 5 oz) brute, after it engulfed a live mullet she was using for bait. The current IGFA record stands at 6.6 kg (14 lb 8 oz).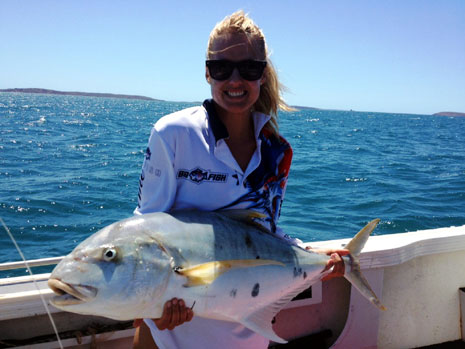 While fishing with Capt. Tom Robinson out of his home town of Naples, FL, USA on November 21st, Dr. Jan Forszpaniak caught and released an impressive 58 cm grey snapper (Lutjanus griseus), that could potentially beat the current All-Tackle Length record of 53 cm, which he set earlier in the year. Forszpaniak's fish ate a threadfin herring and put up a spirited two minute fight before it was boated, measured, and released alive – something that is tough to do on a tasty fish like grey snapper!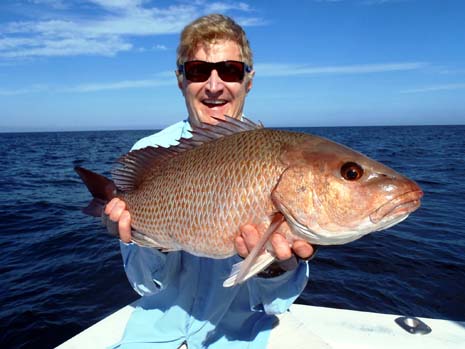 While trolling off the island of Tonga on October 31st, Kiwi angler Guy Jacobsen accomplished the seemingly impossible by catching a 16.33 kg (36 lb 0 oz) wahoo (Acanthocybium solandri) on only 1 kg (2 lb) tackle! This potential men's 1 kg (2 lb) line class record, which exceeds the existing claim by more than 15 kg (30 lb), hit a lipless Halco lure and put up a 14 minute fight before it was subdued. Congratulations to Guy Jacobsen, Capt. John Batterton and the crew of the Hookin' Bull on a great catch!