This year's Angling Trust Ladies National was fished at Weston Pools; with Belvedere, Stretton and Weir Pools hosting the competition. The conditions were favourable with it being warm and overcast, this resulted in plenty of fish being between the 42 competitors taking part.
England International, Samantha Sim (pictured with part of her winning catch) now has another trophy to add her already full cabinet, after a superb display of pole fishing. Drawn on peg 18 on Stretton, Sam fished pellet shallow close to a nearby aerator for the first half of the match, catching 20 good sized F1s.
Then in the last two hours she swapped to fishing pellet down the edge towards the next platform to catch numerous carp, boosting her weight to a terrific 57.825Kg. This was more than enough to crown her as the AT Ladies Champion for 2018.
Young, Maver backed Sarah Taylor drew Belvedere peg 9 and bettered her Seventh place finish last year after putting 46.375Kg of mainly barbel into her net. Sarah too, caught F1's shallow, before fishing at mid depth to find the barbel for the latter part of the match.
This secured Sarah second in the match and also the Clare Dagnell Memorial Trophy, for the best weight in the Under 21s category.
Third place went to Emma Drysdale, on peg 14 of Stretton, Emma caught all her fish close in on pellet and sweetcorn, either at 5m or down the edge. Emma ran Sarah close with an impressive 44.660kg.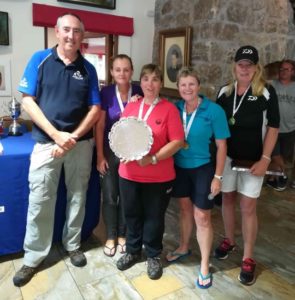 With regards to the team element to the competition (which is based on total weight), it was once again Starlets who came out tops with a total weight of 141.605Kg.
In a close second was Lindholme Ladies with 126.650Kg and rounding out the top three were Warrington Gold with 103.450kg.
Other trophies up for grabs were, the best up and coming angler award, which was given to Rebekah Thompson after she finished seventh with 36.125Kg and the biggest carp of the day award went to Jacqueline Thomas for her 6.125Kg common.
The final and maybe most significant rewards of the day went to the top six competitors (listed below) who all qualify for next year's Ladies Fish 'O' Mania Final.
The Angling Trust would like to thank Mike and his team at Weston Pools for a great day out and to Andre Grandjean for running another awesome national.
Individuals
1st Samantha Sim 57.825Kg
2nd Sarah Taylor 46.375Kg
3rd Emma Drysdale 44.660Kg
4th Julie Abbott 43.555Kg
5th Linda Billington 38.350Kg
6th Gemma Matthews 38.075Kg
Teams
1st Starlets 141.605Kg
2nd Lindholme Ladies 126.650Kg
3rd Warrington Gold 103.450Kg
4th Team SMS 102.475Kg
5th Ducklow Danglers 79.200Kg
6th Newton Le Willows 69.450Kg