The Angling Trust Ladies National Championship saw 43 anglers battle it out on Gearys and Little Gearys on a muggy, overcast day at Packington Somers. 
The England International Ladies were very strong on the day and filled the top six places. Taking the Championship title for a second time was Sandra Scotthorne who drew on peg 21 of Little Gearys and caught 39.350kg of F1's and carp on pole.
Runner up Emma Pickering sat just two pegs away at peg 25 and caught 34.750kg on method feeder and pole.  Third place went to Julie Abbott also on Little Gearys at peg 11 with 24.450kg.
The team competition was won for the third year running by the Starlets Team (Julie Abbott, Helen Dagnall, Sophie Hill and Sandra Scotthorne) with a total weight of 88.350kg just ahead of Burt Danglers (Abbi Kendal, Amy Marcroft, Emma Pickering and Samantha Sim) with 84.325kg.
The Claire Dagnall Memorial Trophy for the best U21's weight was won by Sarah Taylor with 19.075kg.  The Fish O'Mania Ladies Final next year will see virtually all the England International team qualifying.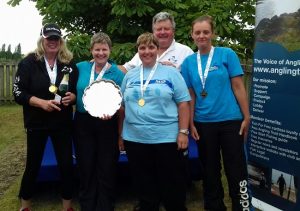 The Angling Trust would like to thank John Burchall and his team at Packington Somers for a great day.
Ladies Match Fishing National 2017
Individuals:  1st  Sandra Scotthorne, Doncaster, 39.350kg2nd  Emma Pickering, Doncaster, 34.750kg3rd  Julie Abbott, Newark, 24.450kg4th  Samantha Sim, Worthing, 21.900kg  5th  Kayleigh Smith, Leeds, 19.425kg6th  Abbi Kendall, Wisbech, 19.100kg
Teams: 1st  Starlets, 88.350kg2nd Burt Danglers, 84.325kg3rd  Lindholme Ladies, 60.775kg4th  Billy No Mates, 41.900kg5th  Warrington Gold, 38.000kg6th  SMS Ladies, 34.550kg