Scott Horrocks was over the moon to catch a 33lb carp on his first visit to Linear Fisheries under the guidance of tutor Andy Ormrod.

Andy, who runs Bolton based http://www.improveyourfishing.co.uk, selected the Oxfordshire complex because Scott had been catching carp to 16lb close to his Lancastrian home but felt he was ready for something bigger.
He booked a 48-hour tutorial, which meant he was also taking on his first night fishing experience.
"After arriving at the venue we spent around 90 minutes walking around the various waters for signs of fish," explained Andy. "We found them in numbers on Brasenose Two and fortunately for us there were very few anglers on the lake and none around the area where the fish were giving themselves away in," said Andy.
"The session went well although I have to admit that my original plan of fishing myself was reconsidered and when the action hotted up I reeled in my rods and concentrated on helping Scott to fill his boots!
The pair introduced around 20 Spombs of corn, hemp and crushed Mainline Cell boilies to an area of light silt and spare weed at around 90 yards from the bank.
The first night passed quietly but from 6am the action came thick and fast. In total the pair landed 27 fish, eight of them over 20lb, with catches topped by a new personal best going 33lb known as Split Tail.
Andy runs various courses for coarse, carp, pike and catfish anglers looking to improve or hone their fishing skills and works with Get Hooked on Fishing to introduce more youngsters to the sport of angling.
He also runs an annual French carping trip an can be contacted through his website or on 07789 487243.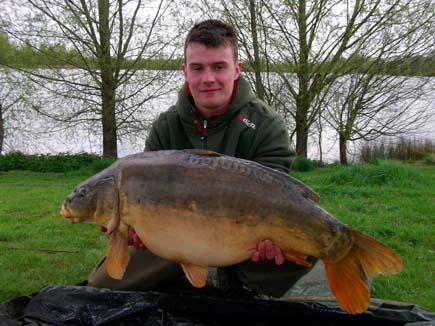 Scott Horrocks with one of several twenties caught in a 48-hour session on Brasenose Two at Linear Fisheries with Andy Ormorod from www.improveyourfishing.co.uk .