Pic: First place Seighford Sharks
Anglers from all over the UK and Europe headed to Rutland Water for the two day final of this prestigious match.

At the end of Day One (Tuesday 1 October) the Seighford Sharks with 45 fish for 129lb 6 3/8oz looked to have a comfortable margin of nearly 20lb ahead of second placed Blagdon Fly Fishers Cortland with 42 fish for 110lb 6¼oz. However, history shows that very few teams have led from the front to take victory on the final day. Only a few pounds separated 3rd placed Hanningfield on 108lb 15¼oz, 4th Welsh Hawks 106lb 11½oz and 5th Menteith Ospreys on 104lb 15 3/8oz.
Rutland Water was at its best and fished to a rod average of 5.45.

Day One highlights – the best Rainbow weighed 5lb 11oz and was taken by Graeme Steele fishing for the Grizzle Cats. The top rod was Tim Joyce, fishing for Hanningfield. Tim's bag weight was 26lb 13 3/8oz – he also took the best Brown of the day at 5lb 15 7/8oz.
As the boats ventured from the harbour they made an interesting split – the majority headed for the South Arm with only six daring to venture down the North Arm. Interestingly none stayed in the Main Basin – the first time anyone can recall this happening in a major match. Anglers had tubed here on practice day without success. Fish were up in the water and some of the most successful tactics were to fish two boobies twelve feet apart on slime lines. Despite the numbers fishing the South Arm, boats were well spaced and favoured the left hand side of Manton Bay.
First back to the pontoon on Day One were Mike Dixon fishing for Seighford Sharks with 8 fish for 24lb 13¾ and Iain Barr fishing for Blagdon Fly Fishers Cortland 8 fish for 24lb 3 5/8oz. This pair arrived back at 1.30pm.
At the end of Day One The Corrib Hoppers were in 8th place with 37 fish for 91lb 8 5/8oz, and were the leading overseas team.
On the second, and final day, the boats left the pontoon and yet again six made for the North Arm and the rest headed to the South Arm. Anglers were caught in heavy early morning rain and the atmosphere was tense with anticipation.
Fortunately conditions soon improved and were near perfect with no further rain, it remained overcast and the forecast strong winds didn't materialise.

Rutland Water again fished its socks off with a Day Two rod average of 5.25, only slightly less than Day One (5.45). Across the two days there were numerous limits including quality 3lb plus Rainbows and Browns. At the final weigh in it was evident that some good sized fish were tipping the scales. Tactics used ranged from boobies 'popped' on the surface, to blobs, nymphs, cormorants and dabblers fished on intermediate/slow sink lines, with one or two successful using floating lines, with nymphs and dries.

At the presentation dinner, following two days of intense competition, Jon Marshall, Fisheries Manager for Anglian Water, held his audience in suspense as he announced the results from Day Two. It would take a lot to dislodge Seighford Sharks from the top – but anything was possible.
So on Day Two Wullie Simpson fishing for Menteith Ospreys landed the best Brown at 5lb 10 1/8oz. With a one Brown limit enforced Wullie had to return an even bigger Brown estimated at around 9lb later on. Nick Long fishing for Blagdon Fly Fishers Cortland (second placed team after Day One) netted the best Rainbow at 6lb 7¼oz – Nick's fish was the best fish of the match overall. Mark Harrison of Seighford Sharks had the best bag on Day Two with 8 fish for 26lb 95/8oz. Top rod of the entire match was Mike Dixon of Seighford Sharks with 16 fish for 48lb 13 ¾oz.
Team Airflo had an excellent day coming out top on Day Two with 44 fish for 109lb 11 3/8oz with Seighford Sharks in second with 38 fish for 105lb 9 1/8oz and Blagdon Fly Fishers Cortland third with 35 fish for 99lb 12 1/8oz.

There were outstanding consistent performances across both days from a number of the top teams with Seighford Sharks maintaining their lead from Day One for a convincing victory. Team members Craig Barr, Gary Owen, Mark Harrison, Phil Longstaff and Phil and Mike Dixon received gold medals along with the prestigious silver salver first awarded 31 years ago. It was a remarkable double for the Seighford Sharks as they had previously won the Lexus European team event back in August. Silver medals went to Blagdon Fly Fishers Cortland and Bronze to Team Airflo. The top three teams also received prizes and substantial prize money. The overall rod average for the match was 5.35.
G Loomis Team Belgium won the prize for leading overseas team. The WaterAid trophy for the heaviest fish taken throughout the match series went to Bob Cooper. Bob (who fishes for Stocks Falcons) took a fine 9lb 9oz Rainbow during the Northern Heat fished at Stocks Reservoir on 8 June.
Anglian Water Airflo International Rutland Water Final Results
1st Seighford Sharks 83 234 15 1/2
2nd Blagdon Fly Fishers Cortland 77 210 2 3/8
3rd Team Airflo 77 192 14 1/2
4th Fish Hawks 75 189 3 5/8
5th Welsh Hawks 72 186 10 3/4
6th Menteith Ospreys 71 185 9 1/8
7th Hanningfield 66 177 13 7/8 8th Change Flyfishers A Team 67 174 13 7/8
9th G.Loomis Team Belgium 63 170 13 1/4
10th Harvey Angling Margam 66 164 13 7/8
11th Thalassa AC 65 163 7
12th Nymph-a-Maniacs 63 162 13 5/8
13th Rio Masters 65 162 1 7/8
14th The Renegades 66 160 2 7/8
15th The Corrib Hoppers 66 159 3 1/4
16th OTFA(Kirkwall) 60 149 2 3/8
17th Shetland Anglers 59 144 12 1/4
18th Grizzle Cats 57 142 9 3/8
19th Froggies Fly Fishers 56 142 8 7/8
20th Saltire Flyfishers 51 135 4 7/8
21st Stock Barracudas 45 114 13 1/8
22nd Bewl Chingley Chompers 43 113 12 3/8
No. of Fish Caught 1413
Rod Average 5.35
Total weight of fish caught 3638lb 10 5/8oz
Average fish weight 2lb 9oz
Average bag weight 13lb 12½oz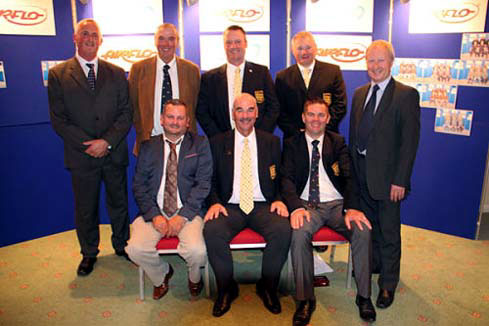 Pic; 2nd place Blagdon Fly Fishers Cortland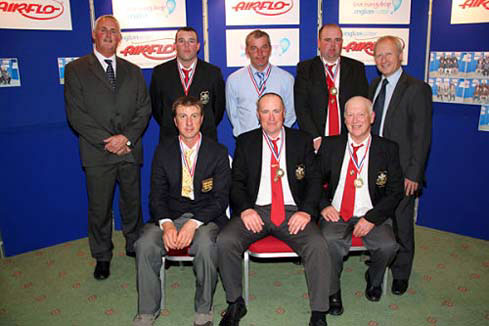 Pic; 3rd place Team Airflo