Saturday June 19th
Warwickshire Avon – Evesham Town Waters and Hampton Ferry
65 pegs
Last gasp barbel secures victory for Ed!
Small chub and dace featured in many of the catches in the first Shakespeare Championship qualifier of the season on a low and clear Warwickshire Avon at Evesham but it was a double figure barbel landed by Ed Warren that took top billing.
Preston Innovations backed Ed was at Peg 8 on the Town Waters and after being told there was a chance of a big fish or two there he set his stall out with chopped worm and caster at six and 14.5 metres. A 3g flat float, 0.20mm main line and 0.18mm hooklength tied to a size 12 hook was the approach but with less than half an hour to go and only a few perch and one ell in the net it looked very much like the plan had failed. That was until an 11-9-0 barbel took a liking to his worm hookbait and boosted his winning catch to 13-9-0, winning him a place in the big August final and £205 in cash.
Second place, with 12-12-0 of small chub and dace caught on waggler and stick float with bronze maggots went to Kamasan Starlets team man Dave Harrell at unfancied Peg 32. Dave used a 3AAA waggler with five No8 shot down and caught with the rig set just off bottom to begin with before switching to seven No4 stick float fished just past mid river. Fish up to 8oz kept him busy for the first half of the match but slowed down dramatically in the last two hours.
It was a similar story for the third and fourth placed anglers. Third was Ray South of the Ferrymen team at Peg 36 with 12-6-0 of small chub and fourth was Daiwa Gordon League's John Curtis with 10-1-0 of the same species at Peg 35. Making up the top five, at Peg 54, was Danny Ashington of Kamasan Starlets with 8-11-0 of chub, the best weight from the Hampton Ferry section.
Qualifiers: Ed Warren, Ray South, Danny Ashington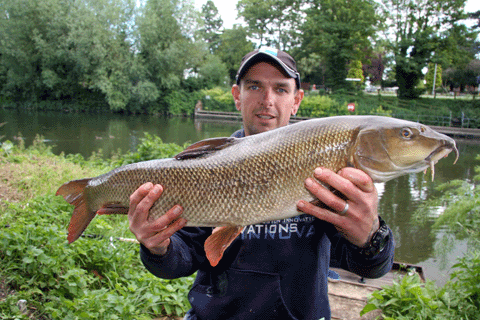 Ed Warren
Next qualifier – Sunday June 27th – bookings through Diana Raphael on 01386 442458