Sunday June 20th
Warwickshire Avon – Evesham Town Waters and Hampton Ferry
65 pegs
Rich day for Richie!
After an excellent match the previous day it was a case of after the Lord Mayor's show as heavy boat traffic coupled with baking hot temperatures and a clear river saw just 3lb needed for a main frame place. Many of the sections won with low weights between 1lb and 2lb but one man who did find some decent sport was match winner Richie Reynolds.
A regular money winner at Evesham, the VDE Quorn team man fancied his chances when he pulled out Peg 35 and he fancied then even more when he realised that Peg 36 hadn't been drawn! Feeding steadily with bronze maggots and running a very lightly shotted waggler from the middle to two third across he was soon into fish and his 9-3-0 total gave him plenty to spare over his rivals and also win him £200 and a place in the final in August.
Second place, with 5-8-8 of small chub and dace fell to Kevin Millard at Peg 2. Like the winner, Kevin fished mid river with waggler and bronze maggot.
Third, at Peg 64 with a 4-9-0 tench taken close in on worm was Welsh visitor Clive Branson, fourth was Daiwa Gordon League's Brian Pollard with 3-13-0 of small chub from Peg 33 and fifth was Preston Innovation's Ed Warren with 3-8-0 of eels and perch from Peg 51.

Qualifiers: Kevin Millard, Richie Reynolds, Clive Branson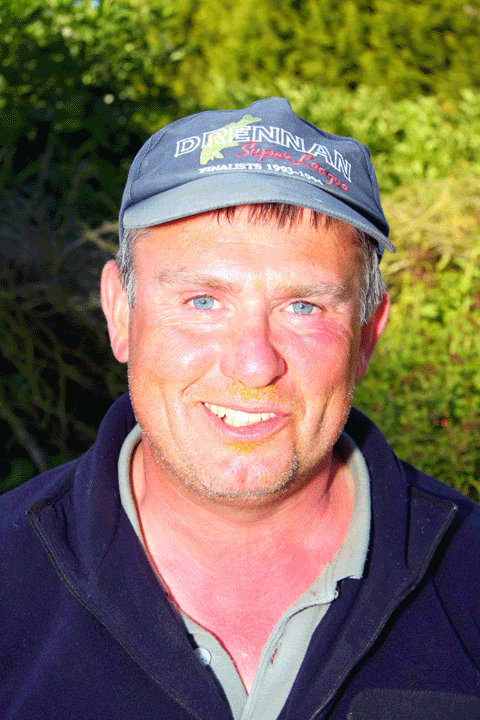 Match winner Richie Reynolds
Next qualifier – Saturday June 26th – bookings through Diana Raphael on 01386 442458