Sunday July 18th
Warwickshire Avon – Evesham Town Waters and Hampton Ferry
65 pegs
First ever barbel wins it for Tim!
At the draw, Tim Kaye of the Riverlution match squad feared the worst when he pulled out Peg 10 on the Town stretch. It's a swim that rarely features in the main prizes at Evesham but Tim set about it by covering every option for small and big fish. It paid off when he landed his first ever barbel, a superb 10-2-0 fish, close in on a worm rig in the last hour! Added to the roach he'd already landed on hempseed it gave him a winning total 0f 13-9-0.
Runner up from Peg 58, the previous day's winner, was venue regular winner Steve Ashmore (WB Clarke) with 8-14-0 of mainly roach on hemp and tares.
Third was John Price (Garbolino Banbury Gunsmiths) with 6-4-0 of hemp roach from Peg 6 and fourth with a tench and two eels from Peg 64 was Welsh international Andrew Murphy (Tredegar AC).
There was a tie for fifth between Tony Davis (Shakespeare Old Boys) at Peg 16 and Terry Parrot (Alcester Sports) both with 5-3-0 of roach.

Qualifiers: Tim Kaye, Terry Parrot, Steve Ashmore
Next qualifier – Saturday July 24th – bookings through Diana Raphael on 01386 442458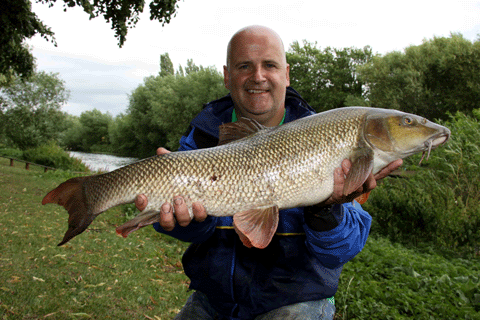 Tim Kaye