Saturday 29th August
70 pegs
The river was the lowest and clearest it had been all season for this match and many of the competitors had made up their minds to go all out for a big fish to win the £6,000 top prize before they'd even drawn! As a result the spectators that turned up to watch were treated to the majority of the anglers looking skywards watching motionless quivertips.
For a long time though no big fish were landed and many people had Wayne Swinscoe down to win again from Peg 7. Wayne had landed a couple of good chub plus some perch on the waggler and was also picking up odd fish on the straight lead going into the last hour.
With half an hour to go Darren Cox at Peg 17 had ounces in the net but a 12lb barbel, taken on a halibut pellet, changed everything and he ran out winner with 12-8-8. Second place went to long time leader, Wayne Swinscoe who weighed in with a level 7-0-0 from Peg 7, a result worth £2,000. Third, picking up £1,000 was the ever-consistent Simon Willsmore who turned in a brilliant small performance at Peg 41 by shipping back 6-15-8 of bleak on a short line at 13 metres.
Fourth spot and £800 went to Italian visitor Milo Columbo with a pole caught 5-1-4 of small roach, gudgeon and dace from Peg 50 and completing the frame was Rob Middleton who picked up £500 with a level 5-0-0 of small chub from Peg 54.
RESULT
1. Darren Cox (Garbolino) 12-8-8 (Peg 17)
2. Wayne Swinscoe (Trabucco) 7-0-0 (Peg 7)
3. Simon Willsmore (Milo/ Daiwa Dorking) 6-15-8 (Peg 41)
4. Milo Columbo (Milo) 5-1-4 (Peg 50)
5. Rob Middleton (Shakespeare) 5-0-0 (Peg 54)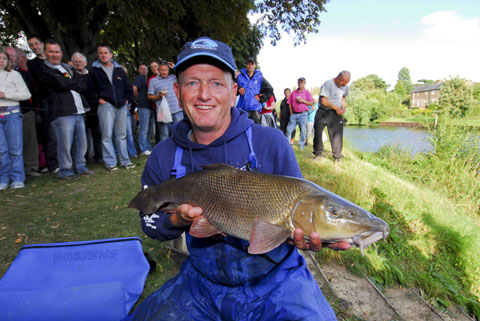 Darren Cox
Click on www.total-fishingclub.com – the UK's No1 online match fishing club – to win a trip to the world match fishing championships, and save money off tackle