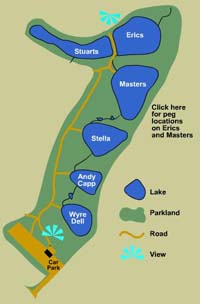 Set in an idyllic location in the heart of the Worcestershire Countryside, and fed by natural spring water, Shatterford Lakes offers perfect fishing conditions for beginners and enthusiasts alike.
Due to the depth of the water it's a venue that fishes well through the colder months as well as when it's warmer, and it's especially noted as providing probably the very best catfish sport in the Midlands, with a fishery record standing at over 70lb.
There are also many specimen carp and grass carp to go at, plus the chance of some incredible bags of bream and big roach. Anglers with limited mobility are well catered for and several disabled anglers, including those with hearing/speech disabilities, have become regular customers over the years. Under the ownership of Ivan Norman since January 2006, the fishery is open throughout the year, 7 days a week, including Bank Holidays, with the exception of Christmas Day.
Rod numbers are strictly limited to avoid over-crowding and pre-booking is advisable on both Eric's and Masters lakes to avoid disappointment. Overnight and longer stays are a popular choice.
OPENING TIMES
We open at 8am on weekdays and around 7.30am weekends. There's a strict 8pm gate closure in summer months and we close at dusk in winter
THE FISHERY
Situated in a valley on the Bridgnorth Road (A442) only 10 minutes from Kidderminster and Stourbridge, Shatterford Lakes provides an ideal and tranquil setting for the perfect night or daytime fishing experience.Shatterford Lakes was established in 1972 and over the years, the fishery has developed into the only one of its type in the UK that offers such a variety of fishing options.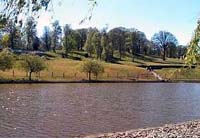 STUART'S LAKE
Stuarts is the largest of our pleasure pool and offers a few surprises, including good sized catfish to 47lb plus. Average carp reach double figures and go to 25lb plus, roach go up to 3lb, bream to 11lb and golden tench to 9lb.
Best methods are maggots, sweetcorn and fish meal boilies.
Prices And Rules: http://www.shatterford.com/htm/stuarts.htm

ERIC'S LAKE
Eric's lake is known to hold catfish over 60lb and carp up to 40lb.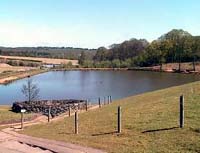 At 28ft deep, this lake is not for the faint-hearted and, like Masters, the correct equipment must be used (see Rules).
Luncheon meat, boilies and pellets all work well. Small live trout are available from the tackle shop during spring and summer months for the catfish. Live bait MUST be purchased on site.
Prices And Rules http://www.shatterford.com/htm/erics.htm
MASTERS LAKE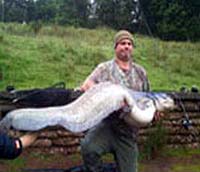 As catfish can gain up to 7ib in one summer, Masters now has catfish well over 70lb and carp over 40lb.
As with Eric's, the correct equipment is essential.
Prices And Rules: http://www.shatterford.com/htm/masters.htm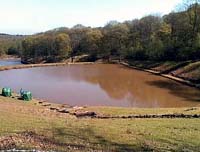 STELLA LAKE
Stella has 14 pegs with a good range of silvers and carp up to 25lb and above.
Depth in the basin drops to around 14ft with good results being achieved near the margins or towards the sunken island around the centre.
Stella offers close parking facilities and easy access to the lakeside for anyone with mobility problems. Along with Wyre Dell, Stella is available for small matches during winter months.  Call for details (Tel: 01299 861597)
Prices and Rules: http://www.shatterford.com/htm/stella.htm
WYRE DELL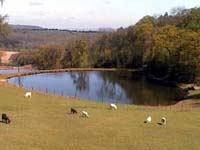 Very popular with match and pleasure anglers, Wyre Dell has been converted to a coarse lake.
It holds a good quantity of carp up to double figures, along with a wide range of silvers, making it an ideal small match or corporate event venue (maximum 15-16 pegs). Available throughout the year.
Prices And Rules: http://www.shatterford.com/htm/wyredell.htm
THE TACKLE SHOP
The shop offers a wide variety of baits and general fishing equipment, with some of the leading brand names in the business. We are now a leading stockist of Zebco, Rhino and Quantum catfish and carp products.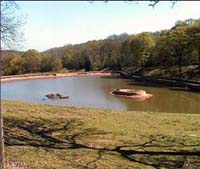 ON SITE FACILITIES
Toilets, hot shower and fresh cold water tap located near the lakes. Convenient parking.
SPECIAL OFFER
Let us have a photo of your Shatterford catch.  If it is published in one of the national fishing papers or magazines as a result of being submitted by us during the current year, we will give you a full 12-hour fishing session free of charge!
Please email us your photo in jpg format.
HOW TO GET THERE
Shatterford Lakes is just two miles north of Kidderminster in the West Midlands, situated on the A442 towards Bridgnorth. It is less than half an hour's drive from the motorway network. Follow the brown tourist signs for Wildlife Sanctuary & Fishery
CONTACT
Shatterford Lakes, Birch Bank, Bridgnorth Road, Shatterford, Nr Kidderminster, Worcestershire, DY12 1TW
Tel: 01299 861597
Email:  info@shatterford.com
Website: http://www.shatterford.com