Homedale Lake – a great match water.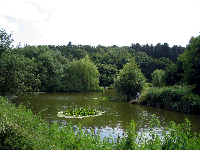 Homedale Lake – a great match water.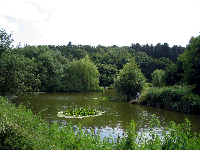 IF you want some quality silver fish action, then get yourself down to Sherwood Forest Farm Park Fishery, at Mansfield, Notts, where a sizeable catch of bream and roach is just a bag full of pellets and a pint of red maggots away!
There are five lakes and 185 pegs at Sherwood set in 20 acres far away from the madding crowd, and each offering something different. Open matches are run every Wednesday and there are Sunday opens from October-May. The weekends are usually booked up by clubs on Holmedale and Sherwood Lakes.
The open match record on the complex is 156lb to Dave Madin, taken from Holmedale Lake. Opens usually attract a turnout of around 30 anglers.
There are six large car parks at Sherwood and thus easy access to most pegs by car, with disabled parking possible at most pegs.
Hot and cold drinks are available from the bailiff's cabin, while breakfasts and other snacks can be bought from the Farm Park tearoom where there are toilet and washing facilities.
The lovely Cavendish Lake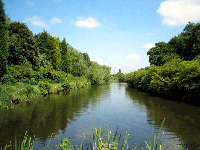 "We try to offer all that anglers seek here," says Mick Langton, who helps run things down at Sherwood.
"Some enjoy bagging hard-fighting carp of course, whilst others really do prefer catching silver fish. Cavendish is my favourite lake because it's full of roach from 2oz to over 1lb, as well as skimmers and bream to 3lb.
"There are plenty of perch and carp too, but anglers fishing this lake primarily target a bag of silver.
Mick's summer approach on Cavendish involves two main lines, one using pellets and the other red maggots.
"I introduce two large balls of a mix of ground pellet and loose sinking pellets to a line at around 10-11 metres, using a pole cup for accuracy," he said. "This mix is brilliant at attracting and holding skimmers and bream as they simply love fishmeal-based attractants here.
This is Maunside – 11-12m wide and 5ft deep
.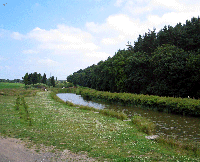 "I leave that swim for at least half an hour and usually you will start to see the fish 'blowing' over the baits and that can be the signal to give the swim a try.
"Meanwhile I'll begin the session on a shorter line slightly to my right, where I'll loosefeed for roach with red maggot."
Mick fishes just three sections of his pole at close range, but stresses that you have to be careful not to 'skyline' the fish.
"It's surprising just how close in you can catch roach, and it's also surprising just how few anglers recognise this fact! If you can catch close, you can catch more quickly and that means more fish," he said.
Mick says that while caster does work for the roach on Cavendish, the bites are often too quick to hit, resulting in a 'shelled' bait and lost time in shipping in and re-baiting. Instead therefore he uses maggot on the hook.
His roach rig is very straightforward, comprising a 0.2gr float with an inverted and elongated pear-shaped body.
Sherwood Lake has 64 pegs and produces lots of ton-up pleasure bags.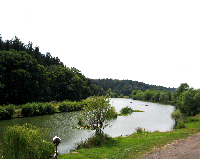 The float has a long antenna and a long carbon stem, making it less prone to tangles according to Mick. The main line is 0.10mm Pro Micron fished direct to a size 18 or 20 Kamasan B510 Crystal Barbless hook.
"The elastic needs to be No3-4, as it is all too easy to bump fish at such close quarters with a No5 or more," he says.
"I shot the float with No10 and No12 shot, strung out evenly down the line to begin with. At times I may bulk those shots at mid depth or even closer to the hook, as that can often result in better bites when the fish are going a bit crazy."
Mick sets the float at two feet deep to start with and says that as soon as a regular feeding pattern is established, you see the fish move in.
"You will not connect with every fish, but once you get them feeding avidly and get into the rhythm of feeding, laying out the rig and striking, then you will start to time your strike perfectly and catch more than you miss," he said.
"You'll see them swirling on the surface in a bid to be first to the bait," he said.
"It's a matter of creating a competitive situation with the fish, so I feed only 4-6 maggots every cast to keep the fish on the hunt for more.
"This is where a lot of anglers go wrong with this technique. They feed a big handful of bait and then don't feed again. If you feed too much, a lot of the feed will sink through the fish to the bottom, which is not where these roach want to be."
By feeding little and often, Mick says you attract the attention of small fish first of all, and in turn that activity attracts the attention of larger fish, which soon bully the smaller ones out of the way.
Mick Langton – a friendly face and always willing to offer advice.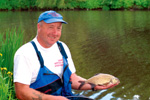 Mick fishes for the roach until he's confident he has bream and skimmers on his longer pellet line.
"The float I prefer using is a 4×14 Colmic pattern, which I shot with a bulk of No8 shots set around about 18 inches off the bottom and three No10 droppers strung out underneath.
"The rig is set to fish about an inch overdepth. Some bites will come as the rig settles, but I expect the majority to come when the rig is fishing at full depth.
"The elastic I prefer is a No6 and the mainline is 0.12 mm Pro Micron to a 0.10mm hooklength, tied to as size 14 or 16 Middy Seiko Specimen Match T83-13 hook.
"Bream will be happy to 'graze' the bottom," he says. "Although you can catch them off bottom at times, in this relatively shallow water they can be kept on the bottom by laying a carpet of feed down at the start, as I have done.
"By contrast, the roach will be more active mid water and you need to feed and fish for them accordingly.
Langdale Channel is a one-acre lake stocked heavily with small carp and silvers.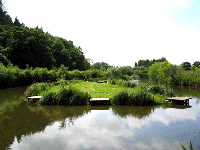 "Most of the bream are in the 8 oz to 1lb 8oz class and by using single, soft hook pellet I find that I avoid the other species and target the bream directly."
"The one thing not to forget when you are fishing a line is not to neglect to feed the other line," Mick adds.
"It's vital to keep the fish interested close in, and I actively feed at more or less the same rate while I am fishing further out.
"That will keep the fish on the boil close in. You can't entirely feed to the same extent as you will miss bites on the long line, but it's important to keep those maggots going into the swim.
"Once the main swim dies a little, I will feed it again then switch back to the near line for a spell to hopefully catch more fish straight away," Mick adds.
An overhead view.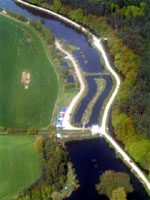 Typical Holmedale catch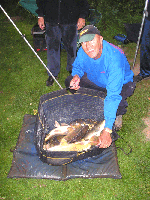 More satisfied customers
!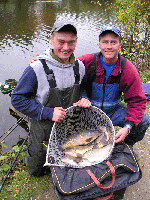 Venue fact file
Sherwood Forest Farm Park Fishery, near Mansfield, Notts
A mixed fishery catering for pleasure, match and specimen anglers. There are five lakes and 185 pegs set in 20 acres of Sherwood Forest alongside the River Maun.
Contact: Mick Langton on 07721 316 334.
Website: www.sherwoodfishery.co.uk

Day tickets: £5 for one rod (juniors £3), £7 for two (juniors £5). Year permits on request Tickets can be bought on the bank. Please ask for concessions.
Matches: Open matches are run every Tuesday and Wednesday and there are Sunday opens from October-May. Club bookings are welcome at £5 per peg.
Restrictions: No boilies. Carp pellets only. Barbless hooks only; maximum hook size 6; all nets must be dipped. Bloodworm and joker is allowed on Langdale only. Open all year 7am to dusk. No braid. Pleasure anglers can use keepnets on Sherwood and Langdale.
How to get there: The fishery is three miles north east of Mansfield. Take the A60 out of Mansfield and join the A6075 signposted Edwinstowe. At the Warsop crossroads turn right, signposted Clipstone, and Sherwood Forest Farm Park is 200 yards up here on the right. Turn into the Farm Park entrance signposted 'fishing' and follow the signs down the lane.