BW MAKINS THURSDAY "KOBRA AFFORDABLE OPEN" Match
Date: 10 January 2008
Lake: LAGOON (Phase 2)
Result
1st Shane SAYERS Makins 34 lb 2 oz
2nd John SMALLEY Makins 14 lb 8 oz
3rd John ADAMSON Kobra Feeders 14 lb 2 oz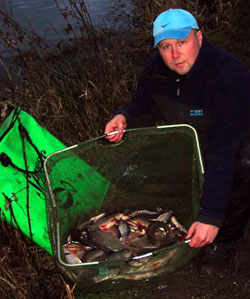 Shane with his winning catch of silvers and two big perch – you know it's tough out there when silvers win at Makin's!
REPORT
The decision to fish the BW Makins Thursday 'Kobra Affordable' Open on Lagoon (Phase 2) proved inspirational as most competitors were able to find some shelter from the strong wind and driving rain.
Roach, perch and skimmers made up most catches, and although only two carp were caught in the match the average weight per angler was close to 14 lb, excellent sport.
Top weight was taken by local angler Shane Sayers from peg 19. Fishing caster, Shane included two perch over 2lb each in his mainly roach catch totalling 34lb 2oz, taken on 12m pole.
John Smalley (Makins) took second spot from peg 21 with 14lb 8oz, just edging out John Adamson (Kobra Feeders), whose 14lb 2oz was taken from peg 2 (one of the unsheltered pegs).
To fish the Thursday Makins Matches, telephone 07749 284 823