The fishery manager of the country's No1 angling holiday destination talks to Gareth Purnell about learning on the hoof and what it's like to have to disqualify cheats.
You are fishery manager at White Acres, the biggest angling holiday destination in the UK. How did that happen?
I always used to spend three weeks fishing the festivals in Cornwall, but in my last three years I ended up in the top 10 in every festival, and in the last year before being offered the job I'd won three festivals in two years. Andy Seery who was running things, then, had family problems and had no-one to run the festivals and asked if I could take over and I did. Andy ended up selling White Acres and Andy put me forward to the Tham brothers as the ideal person to organise the fishing.
Had you ever thought about fishery management?
Not at all. They knew I'd had a tackle shop though and could set-up a shop here. But it was tiny when I started here – just a shed really. There were only five lakes and 90 accommodations. I could never have imagined what we have now back then.
So how has it transformed since you've been involved?
Well we've put on eight new lakes and another 300 accommodations. There were no log cabins when I started. I've gone through the process of buying and having the log cabins built, building lakes from scratch and building the shop to what it is now, which is a proper angling shop with quite a big turnover. It's also gone from 60 acres to 180 acres of land. It's amazing how it's grown. There are now something like 380 pegs, plus we also run Bolingey Lake nearby.
There are times of the year when the whole complex is full and virtually every peg is taken. What's the secret to filling up a place like this?
I think having a mixed fishery helps. People can come on holiday and catch species other than just carp. I also think that anglers know that we organise the matches and rotate the lakes to offer the best possible fishing in the conditions. You can't always have a good match – all anglers know that – but they know that we give them the best possible chance of a good day's fishing. We have some big fish angling too – we have 11 catfish over 40lb although we do get very few big fish anglers coming here.
And of course the festival side has grown massively as well…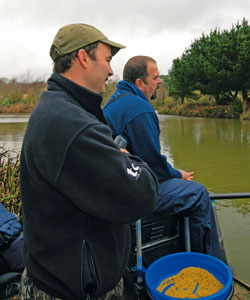 Gareth watches Clint at 'work' at White Acres, where he's gained plenty of respect for having the bottle to ban anglers for breaking the rules.
When I started there were three spring festivals spread around Easter. We have moved onto running many more festivals including some in autumn, plus junior, intermediate, veterans and ladies festivals. Plus, of course, there's the Parkdean Masters which is worth £25,000 to the winner. We've done really well with sponsors and even have some people waiting on the sidelines to sponsor events.
What about the fishery management side? Have you had to learn it as you've gone along?
When I started I had no idea really, but when you are on-site every day of the week you soon learn what needs to be done. It's like a big jigsaw and you gradually fill in all the pieces. You start to understand why you need such good water quality, why you need to move your fish around, why you need to thin fish stocks out. You need a lot of fish but if they are not the right sorts of fish the lake is worthless. We have our own stock ponds and we are moving towards being self-sufficient, hopefully within two years.
What's the trick to keeping the fishing so good?
Fish are not as stupid as we think. It doesn't take them long before they are territorial. You can go pleasure fishing and catch a fish a chuck but in a match, once the whistle goes, it's so much harder. Fish do become more fickle under match conditions. It's my job to make sure I can mix generations of fish and try to force the fish into having to feed. A fish that's five years old becomes clever and knows when it can feed safely and when it's not safe. You need to keep introducing a new generation of fish to keep the sport levels good and that in turn will make the more established fish feed. I see it as tricking the fish into having a go when they don't really want to.
What's a good balance between silver fish and carp?
The key is to make sure that you thin your tiny silver fish out and stock fish that will survive. You want a lake that might produce 50lb plus of carp in the warmer months but 40lb of silver fish when the carp won't feed. Not everyone wants carp, but they are big weight builders in matches.
Do you think carp can get too big for match fishing?
What I think is that the tackle trade is moving with the size of fish in terms of rods, poles, elastics and reels. When I first started match fishing the heaviest elastic you could buy was black No8. I remember fishing a match on Bolingey 18 years ago when Chris Love hooked a fish in the first 15 minutes and he was still playing it 15 minutes after the final whistle! And then the hook pulled!! I'd tend to take them out before they reach 20lb because we can put them into our Specimen Lake here. I'm not keen on the way it's gone on some waters in the Midlands where methods have become fairly barbaric. I'm not that way in my own fishing and I would not allow it here.
You've become known as a fishery owner who keeps right on top of his rules…
Rules are a nightmare. I took loads of grief last year for probably being one of the first venues to enforce rules stringently. I started noticing the amount of bait that was being bought in the morning. I don't want to lose shop sales but it's more important to me that people are fishing on a level playing field. We now have 20 random peg checks on every festival morning and random checks on our normal matches. We have had to disqualify people, including some high-profile anglers. It's hard because 95 per cent of these people are my friends. But someone has to make a stand and my team has done that.
I guess a lot of fisheries are scared to ban people because it would cost them revenue, but in your case I don't think it would, because your festivals are always sell-outs.
They are full all the time. We've probably disqualified a dozen people in 12 months. They don't get banned the first time, just disqualified. But if they get caught again they know that they forfeit ever fishing in our festivals again.
You certainly came in for some stick for not naming and shaming the anglers that you caught cheating. Anything to say about that?
The anglers I've disqualified all fish other venues around the country and if they are breaking rules here they will definitely be doing it elsewhere. It's not my place to sort out other fisheries around the country. I've sorted my problem out. But it's deeper than that. Not everyone that I've disqualified has purposely cheated. It's very hard to decide if the guy forgot if he had that extra bag of pellets or didn't know you can't fish a paternoster rig on the feeder.
Has your stance achieved what you wanted it to?
The very first time I checked the anglers on a festival, out of 180 people no less than 100 were over the limit and 33 had double the limit. I had to issue a warning that time because if I hadn't I would not have had a festival. But I made it clear what would happen in the future, starting the next day. I spent 20 minutes explaining at the draw the next morning what the score was. The anglers had been allowed to get away with it for 10 years and had never been checked before. In the whole year since I made a stand I've only disqualified six people – so it shows what we've done has worked.
I think that you've won a lot of respect for what you've done.
It doesn't feel like that when you are doing it. I took a lot of stick for not naming and shaming but in my mind that would have been so unfair on those who had done it by accident. One angler we disqualified had a tube of meat in the bottom of his bag on Gwinear. That meat had been in there since the old king died! But the rule says you don't take meat to Gwinear. He wasn't going to use it, but it was in his bag, so he was disqualified.
Do you think other fisheries should be stricter on bait limits and rules?
No. I think they do what they want to do. I'm not standing on a soapbox. I just look after the interests of White Acres. We make decisions as a team here – my team is as involved as I am and they do the weighing in. I've heard it said that the NFA should have a blacklist of so-called cheats, but they have no jurisdiction over what occurs on privately owned waters.
A lot of anglers associate Clint Elliott with MatchBox boxes don't they? Tell me about that episode in your life…
I had a tackle shop near Penzance in the recession in 1988/1989 and if I hadn't sold up I would have gone bankrupt. I sold it and in part exchange took a bungalow in Stratford-upon-Avon. I moved there with debts, no job and not knowing anyone. I started fishing a lot and had an eight-draw Boss and I was sick of having to drag this big box to my peg every time when all I needed to take was half a dozen rigs. This was before commercial fisheries and we often had very long walks to our pegs on canals and rivers. I drew on a canal one day and I had 110 pegs to walk. It took me 25 minutes of solid walking. That was enough for me, and I set about designing a much more transportable box.
What made your Match Boxes different?
The first ones I made didn't have a base on them and just had a carry handle. The legs fitted into the frame, so all you were carrying was like a little briefcase. And they had two front drawers and a cross draw and a winder tray. You could walk forever with them. That's how it started and then I was approached by Highfield to do boxes for the whole team in their colours. Others teams saw that and that side took off. Then I got asked to do the England team boxes and eventually Peter Drennan approached me about doing their boxes. It was all escalating so I got a workshop and started to employ people. That was great because when I moved to Stratford I was on the bones of my arse not knowing anyone and still with huge debts, and then within 18 months I'd paid everyone off. I still didn't have a lot of money but I didn't care because I didn't owe anyone a penny.
Did you ever think about branching out into other types of tackle?
Fisheasy was just down the road at Redditch and he was a toolmaker and could make all the tools. And I didn't want to cut into what he was doing. But I wasn't that ambitious. After going through what I'd been through I was happy to make a living and go fishing rather than have more business worries. I fished every weekend and in the week – the weekends were really important to me because with the shop I'd had a long time working every weekend.
How did you hook up with Starlets?
I'd been fishing with AFS for about a year and was winning some matches on the Warwickshire Avon. I had a great first season, winning seven matches there against some big names. I was one of the first to target big fish down the inside. I used to go to the matches with a huge pillowcase of worms and everyone thought I was feeding stacks of chopped worm. You'd kick your peg off with worms and you might get one tench, but then you'd get bitted out with Tommy ruffe. I'd always take a big bag of worms with me but the minute I started getting Tommy ruffe I'd swap to three casters on the hook and caster feed. These would catch me big perch and tench but the ruffe ignored them. Most people didn't know that I was swapping to casters and just thought I kept feeding more and more worm. Eventually Dave Harrell approached me and asked me if I'd be interested in fishing for the team.
Nice one! There was something about hitting the bites as well wasn't there?
I'd fish a bright dibber because 95 per cent of the bites didn't take the float under in one hit. I got a 'double bite' every time. The float would go and hold under the water by an inch or so but would hold for anything up to 30 seconds. You had to wait for it to go again with the tench. Loads of anglers were missing bites because they hadn't worked this out. You needed the bright tip so you could see it underwater. I remember my best result was catching five tench and losing a carp from Twyford peg 92, which was really shallow and had no tench form. I won the match quite easily.
You must have been well pleased when Starlets approached you…
At the time Starlets was the team to be in – there were some real greats fishing for them like Dave Hinton and the Downes brothers, and shortly afterwards Darren Cox and Sean Ashby. I can still remember my first meeting – I couldn't talk. I was in awe. But soon they were asking me about my approaches and that was just great. I was with them from 1992 to 2000 and it was a brilliant time. Among many wins two that stand out were the West Midlands individual title and the Superleague final. Winning is much easier when you fish for a big team because you have a lot of very good anglers sharing ideas.
I've read that you have something like 35,000 different anglers here at White Acres in a year, which must be more than any other venue in the country. What have you noticed that's changing in the last year or so?
There's a lot more rod and line fishing that there was two years ago. Maybe that's because we've designed our lakes so that running line skills are important. Match anglers are fishing the bomb a lot more and using the new short commercial 10ft rods which they have already ready set-up. There's also a lot more shallow fishing, as more anglers get used to it. Pleasure anglers can now regularly catch over 100lb of fish because they can fish a short pole and the gear is up to it.
Thanks Clint. Where are White Acres and Clint Elliott going to be in five years from now?
Well I hope I'm still going to be here. I can't see White Acres getting much bigger in facility but I said that seven years ago. I would never have envisaged we'd have superb log cabins overlooking the lakes and people paying £1,000 a week to stay there. So who knows? We don't get a lot back from fishing other than being well thought of in our field. So if I can continue to compete and have respect from anglers I'll be happy.
Angler File
Name: Clint Elliott
Age: 42
Hometown: Newquay in Cornwall, but a Fulham lad born and bred
Sponsors: Preston Innovations
Angling ambitions: I just want to compete at a good level for as long as I can


---