STAFF and pupils at a Cambridgeshire secondary school offering angling lessons as a formal qualification have celebrated a second successful year.
The Centre School, part of Cottenham Village College, operates an alternative learning programme for students aged 12-16 with special educational needs arising from a variety of social, economic and learning factors.
One of many options available there is the National Federation of Anglers 'Introduction to Angling and the Environment' – an OCN (Open College Network) accredited course with three levels equivalent to various mainstream GCSE exam benchmarks.
This year's successful intake – Ashley Coupland from Littleport plus Wisbech trio Chaz Thrower, Liam Thrower and Luke Jones – received pass certificates plus trophies and prizes from top specialist angler Matt Rand at their annual presentation day on Waterbeach AC's Magpie Lake.
Matt, who also donated course tutor Martin Croxon a box of goodies from his sponsors Dynamite Baits and Fox for use in future lessons, said: "It's always great to see youngsters who are really into fishing. And they clearly know their stuff. I discovered that Liam caught a silver bream bigger than my PB during the teaching sessions."
Local angling journalist Tom Legge, who has assisted Martin in the course's delivery since October after gaining his ADB Level 1 coaching qualification, said: "All four are great lads who knuckled down and did the paperwork as well as just the fishing. I'm certain they'll be anglers for life.
"Like Matt says, they know their stuff and not just the fish catching side of it. They got right on my case for littering when I forgot to pick up my water bottle at the end of one session. Croxie is an amazing teacher and I'm proud to have played a part."
Kye Jerrom of the Environment Agency, who provide tackle and support for this and other youth angling projects, said: "The benefits angling can bring to education are immense and being able to link these projects with our own 'Angling 2015' Angling Participation Programme is a great opportunity.
Being involved at Cottenham has made us really proud. We have seen real results from our input and the success at The Centre has led to further interest at other schools in the region."
* Waterbeach AC, whose waters are among those fished by project pupils, have their own qualified angling coaches and are currently taking entries for a summer junior series based on four midweek evening matches plus a Saturday final. Contact Kevin Sands on 01223 440681 or visit www.waterbeachac.co.uk for dates, times and details.
* The project also fishes waters run by Cambridge Fish Preservation AS, one of Britain's few ClubMark-accredited angling clubs with eight qualified coaches. Call Graham Tweed on 01223 234616 or visit www.cambridge-fpas.co.uk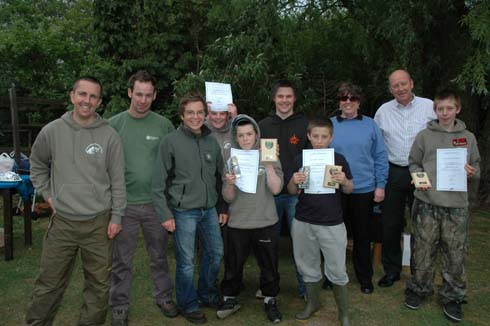 from left: Angling teacher Martin Croxon, EA officers James Hooker and Kye Jerrom, pupils Luke Jones and Liam Thrower, star guest Matt Rand, pupil Chaz Thrower, Centre School head Sue Raven, Cottenham VC head Tony Cooper, pupil Ashley Coupland.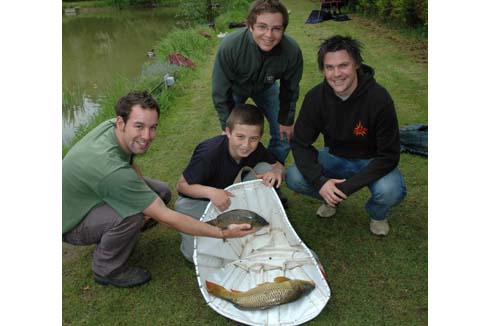 James, Kye and Matt with Chaz Thrower, who backed this brace of carp with 1lb of silver fish for a 6lb 8oz victory in the two hour presentation day match.
Click on www.total-fishingclub.com – the UK's No1 online match fishing club – to win a trip to the world match fishing championships, and save money off tackle