Chris's Spod Guide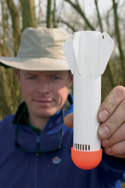 Gardner Marker Particle Bullet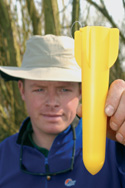 Gardner Bait Rocket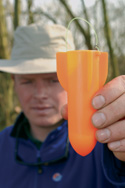 Gardner Pocket Rocket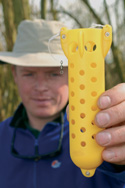 Gardner Pocket Rocket XL
Gardner Pocket Rocket
This miniature spod is ideal for casting out small amounts of bait accurately at short to medium range. The Pocket Rocket can actually be used with a standard carp rod of 2.75lb test curve or higher and so does not require a dedicated spod rod.
Using one of these for spodding large amounts of bait however, will take a very long time and I would recommend the use of a larger version in this case. The Pocket Rocket is also ideal for spodding mixers when floater fishing as the light design does not create too much disturbance when it hits the surface.
Gardner Pocket Rocket XL
This is the big brother of the Pocket Rocket and is basically just a bigger version. Because the Pocket Rocket is so aerodynamic and reliable, the larger version was introduced for spodding bigger amounts of bait.
The Pocket Rocket XL will require the use of a proper spod rod as the heavy spod, when full of bait, will break soft test curve rods. You will also need heavy-duty line and a decent sized reel for the larger Pocket Rocket.
Gardner Bait Rocket
This is the daddy of the Gardner spod family and is ideal for depositing large amounts of bait quickly. It has a very big capacity and so will require a strong spod rod and reel. When full, the Bait Rocket can weigh up to eight ounces and so a smooth accelerated cast is needed in order not to smash the rod or break the line.
The Bait Rocket features large holes along the length of the body, allowing quick release of particle baits and an easier retrieve as the water passes through it as you reel the spod back in.
Gardner Marker Particle Bullet
The marker Particle Bullet is another big spod with a large capacity for bait. This is especially good for depositing large amounts of small baits as the solid body prevents spillage in mid-flight. The white body with fluorescent orange head is ideal for long-distance spodding as they make the spod visible.
Just below the head of the Bullet are a series of slits in the body. These allow water to pass through and so reduce resistance on the retrieve. Again, a heavy-duty spod rod is required when using this spod, which can be very heavy when full of bait.

---